BAE Systems Signs Co-operation Agreement With Turkish Defence Company For Wheeled Armoured Vehicles
Category: Defence Industry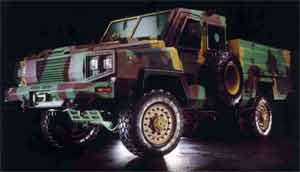 BAE Systems Land Systems OMC has announced an agreement with Turkish private sector defence company FNSS Savunma Sistemleri A.S. (FNSS) for the joint marketing and supply of wheeled armoured vehicles to the Turkish Armed Forces.
The co-operation agreement comes in advance of the upcoming Turkish Armed Forces wheeled armoured vehicle requirement, particularly in the field of mine-protected vehicles where Land Systems OMC's RG-31 mine-protected Armoured Personnel Carrier (APC) could be a perfect fit. The RG-31 is already in service with a number of international customers and is thoroughly combat-proven under some of the harshest operating conditions.
FNSS is an American-Turkish joint venture company in which BAE Systems holds a 49% share through BAE Systems Land and Armaments (formerly United Defense LP) with Nurol Holdings (51%) of Turkey.
Signatories to the agreement signed in Ankara were Johan Steyn, Managing Director of Land Systems OMC and Mr Huseyin Esenergul, General Manager of FNSS.
BAE Systems
07.10.2005

BAE Systems` CV90 increases lethality by testing SPIKE LR anti-tank guided missile
14.01.2020
U.S. Marine Corps orders more Amphibious Combat Vehicles
11.11.2019
RAVEN Countermeasure System protects vehicles from missile threats
15.10.2019
BAE Systems unveils Robotic Technology Demonstrator Vehicle at AUSA
15.10.2019
BAE Systems Land Systems Hagglunds AB
BAE SYSTEMS Advanced Technology Centre
BAE SYSTEMS Customer Solutions & Support Land & Sea
BAE SYSTEMS Operational Training
BAE SYSTEMS RO Defence Small Arms Ammunition Division
BAE Systems North America, Land & Information Systems