BAE Systems Displays Armed Robotic Demonstrator At AUSA
Category: Robots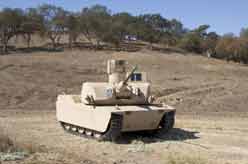 ARLINGTON, Va. -- BAE Systems is displaying an Armed Robotic Demonstrator at the Association of the U.S. Army's 2005 Annual Meeting and Exposition this week in Washington to illustrate the synergy between current and future forces.
The demonstrator is an early prototype of an armed robotic vehicle equipped with operative turret components from the Bradley Combat Systems program.
The Armed Robotic Demonstrator can be controlled from the operator's station in the back of a manned system – illustrated from the crew compartment of a Bradley at AUSA. Gun and turret position, as well as information from a Commander's Independent Viewer (CIV), and the Improved Bradley Acquisition System (IBAS) can be seen on a screen in the Bradley.
"As soldiers dismount, they take a Dismounted Control Device (DCD) along, and continue to operate the Armed Robotic Demonstrator, receiving information on the single screen on the DCD," said Steve Hammond, BAE Systems project manager for the Armed Robotic Demonstrator.
The Armed Robotic Demonstrator displays the existing robotic technologies available for use by today's forces. The Armed Robotic Demonstrator provides an immediate system to illustrate advanced robotic technologies, and provide engineers a hands-on prototype to assist in their design efforts. As the components for robotic vehicles are designed and built, they will be substituted for these Bradley components.
The Armed Robotic Demonstrator is equipped with advanced capability - leveraging some of the proven capabilities available on the Bradley by utilizing robust, existing components. These components provide the demonstrator with the high lethality obtained with the first-round hit, and the ability for the turret to slew to a cue from the Commander's Independent Viewer.
Planned enhancements include advanced robotic technology for autonomous mobility. This capability allows the Armed Robotic Demonstrator to plan routes, maneuver on the planned route, and avoid obstacles – all without operator intervention.
BAE Systems
07.10.2005

Share...




BAE Systems` CV90 increases lethality by testing SPIKE LR anti-tank guided missile
14.01.2020
U.S. Marine Corps orders more Amphibious Combat Vehicles
11.11.2019
RAVEN Countermeasure System protects vehicles from missile threats
15.10.2019
BAE Systems unveils Robotic Technology Demonstrator Vehicle at AUSA
15.10.2019
BAE Systems Land Systems Hagglunds AB
BAE SYSTEMS Advanced Technology Centre
BAE SYSTEMS Customer Solutions & Support Land & Sea
BAE SYSTEMS Operational Training
BAE SYSTEMS RO Defence Small Arms Ammunition Division
BAE Systems North America, Land & Information Systems
Discuss