Selecting BAE Systems` Canadian Close Combat Vehicle (CCV) partners
Category: Defence Industry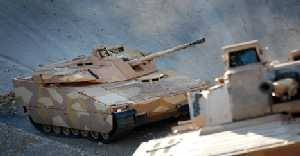 A November planning session in Ottawa was the latest development in BAE Systems' drive to ensure Canadian industry has a major role to play in the Close Combat Vehicle (CCV) program.
BAE Systems has selected a coast-to-coast Canadian team of companies which would play a major role in the program if its CV90 is selected. These strategic partners include:
"Our goal was – and remains – to offer to the customer the highest-quality, highest-performing, Canadian solution. And that meant seeking out Canadian companies that could meet our strict criteria on performance, capabilities and price," explains Caroline Elliott, General Manager for Group Business Development in Canada.
"Our Canadian CCV team was handpicked after an exhaustive industry scan – a cross-Canada tour and review of some 178 companies, in fact. Early in the game we sought out Canada's best and, quite simply, that's why they're on our team."
Representatives from all partner companies came together for the Ottawa planning session so that if successful with CV90, the group can hit the ground running to meet Canada's programme delivery and IRB requirements.
"Holding these types of meetings is in-line with our usual, proven practice of engaging and supporting local industry early in a programme so we minimise cost, risk and timescales further down the line," said Elliott. "But it is also a great opportunity for face-to-face conversations around shared and individual best practices and experiences."
BAE Systems
19.11.2013

BAE Systems` CV90 increases lethality by testing SPIKE LR anti-tank guided missile
14.01.2020
U.S. Marine Corps orders more Amphibious Combat Vehicles
11.11.2019
RAVEN Countermeasure System protects vehicles from missile threats
15.10.2019
BAE Systems unveils Robotic Technology Demonstrator Vehicle at AUSA
15.10.2019
BAE Systems Land Systems Hagglunds AB
BAE SYSTEMS Advanced Technology Centre
BAE SYSTEMS Customer Solutions & Support Land & Sea
BAE SYSTEMS Operational Training
BAE SYSTEMS RO Defence Small Arms Ammunition Division
BAE Systems North America, Land & Information Systems