BAE Submits Bid for Highly Survivable, Affordable AMPV
Category: Defence Industry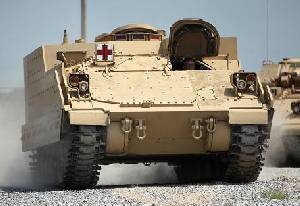 BAE Systems today announced the submission of its highly survivable low-risk solution for the U.S. Army's Armored Multi-Purpose Vehicle (AMPV) competition. The company's offering addresses the critical need to replace the Vietnam-era M113 that the Army has identified as its top priority for the safety and survivability of soldiers.
"Today's submission is the culmination of more than 15 years of concept development and validation and two years of internal development and responses to the Army to fill a critical capability gap for our soldiers," said Mark Signorelli, vice president and general manager of Combat Vehicles at BAE Systems. "Our AMPV proposal provides an affordable low risk solution that is ready now and meets the Army's survivability, force protection, and mobility requirements."
BAE Systems' AMPV capitalizes on the proven Bradley and Paladin Integrated Management designs, meeting the Army's force protection and all-terrain mobility requirements, enabling the AMPV to maneuver with the rest of the Armored Brigade Combat Team (ABCT). The company maximized commonality within the AMPV family of vehicles and the ABCT to reduce risk and provide significant lifecycle cost savings to the Army.
"BAE Systems built and demonstrated prototypes for each of the five variants in order to provide the best solution for the Army," said Greg Mole, AMPV capture director at BAE Systems. "Given the maturity of our design and the commonality both within the AMPV and ABCT fleets, we feel this offers significant opportunity to accelerate the program's schedule."
The BAE Systems AMPV team includes DRS Technologies, responsible for power management, distribution, and integration; Northrop Grumman Corporation, responsible for Mission Command Mission Equipment Package design and integration; Air Methods Corporation, responsible for the design and integration of medical evacuation and treatment subsystems; and Red River Army Depot, responsible for vehicle teardown and component remanufacture. The company's offering includes proven powertrain and drivetrain components from Cummins, L3 Communications, and LOC Performance that supports the ABCT industrial base.
The Army terminated the M113 program in 2007 and has been working with industry for more than two years to maximize competition for the vehicle's replacement. The service plans to award an initial contract for the 52-month engineering manufacturing and development phase in January 2015 with prototype delivery 24 months after contract award.
BAE Systems PLC
02.06.2014

Share...




BAE Systems awarded Armored Multi-Purpose Vehicle contract modifications by U.S. Army for Low-Rate Initial Production
24.02.2019
BAE Systems rolls out first Armored Multi-Purpose Vehicle
16.12.2016
Rheinmetall creates Europe's leading producer of military vehicles
01.02.2016
Rheinmetall AMPV on MSPO 2015
12.09.2015
AMPV (Wheeled armoured personnel carrier)
AMPV (Tracked armoured personnel carrier)
Discuss