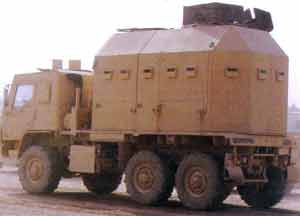 HUNTSVILLE, Ala. -- Teledyne Brown Engineering, Inc. has developed, built and tested an armored troop carrier system, the Multipurpose Troop Transport Carrier System (MTTCS), which is designed to protect soldiers from small arms fire and most fragments from Improvised Explosive Devises (IEDs).
The MTTCS successfully supported numerous transport and convoy missions recently in Iraq as part of the Army Rapid Equipping Force's operational evaluation in a combat environment.
The MTTCS is a modular armor troop transportation system that mounts directly on the bed of any of the common family of Army trucks (2½, 5, or 7 tons). It provides armor protection from most common battlefield weapons being used against American soldiers today. It also has the capacity to mount any of the Army's crew-served weapon systems such as the M2 and M240 machine guns or the MK19 automatic grenade launcher in order to provide protection from attack for the truck and the convoys they travel in. The system is multipurpose since it can be dismounted and used for defensive positions on the ground or buried for greater security.
"We're hopeful that getting this system into Iraq will result in less casualties and lives being saved," said Jim Link, president, Teledyne Brown. "Every day, soldiers are being transported in the back of the Army's fleet trucks with limited protection. The MTTCS not only meets this need but can also provide increased armor protection for Army base camps and critical facilities. The multi functionality of the MTTCS provides the Army with a level of protection that is not currently available anywhere else."
In addition to its use in transporting troops, the MTTCS modules can be dismounted from the vehicles and be used in fixed position on the ground or buried. This makes the system ideal for Force Protection missions such as defensive positions, access control points, check points, base camp infrastructure such as sleeping quarters and Command and Control Centers. MTTCS, therefore, provides armor protection capabilities not currently seen in the Army today.
Teledyne Brown Engineering has an exclusive license for production and sales of the MTTCS. The technology was developed by SAIC with patent pending.