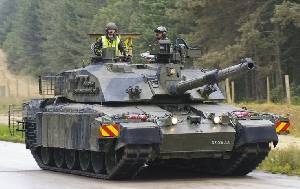 AMPTHILL, BEDFORDSHIRE -- Lockheed Martin UK is to bid for the Ministry of Defence's contract to upgrade the British Army's Challenger 2 tanks.
In collaboration with Elbit Systems UK, Lockheed Martin UK will submit a proposal to undertake the Life Extension Project (LEP) that will see the main battle tanks in service until 2035.
Lockheed Martin UK is the prime contractor for the Warrior Capability Sustainment Programme, which is upgrading a minimum of 380 armoured fighting vehicles for the Army. The company is also designing and delivering 245 turrets for the AJAX vehicles that are being produced by GD UK.
In June, a new £5.5 million manufacturing facility was opened at Lockheed Martin's Ampthill site in Bedfordshire where work on Warrior and AJAX will be undertaken. If successful, the facilities would also be used to deliver the Challenger 2 LEP, creating and safeguarding jobs at the site.
Richard Muir, Business Development Director from Lockheed Martin UK, said:
"We have a proven track record of designing and delivering turrets for armoured fighting vehicles through the Warrior and AJAX programmes. The ability to transfer knowledge between programmes ensures commonality and reduces risk.
"We have invested millions of pounds in our facilities and have doubled our workforce of skilled engineers to develop our Ampthill site into a centre of excellence.
"By teaming with Elbit Systems UK, and using our established and predominantly UK-based supply chain, we're confident we can offer an innovative solution to extend the life of Challenger 2 and deliver improved capability to the British Army."
The team brings together Lockheed Martin's experience in armoured fighting vehicles with Elbit System's proven expertise and experience in LEPs and obsolescence management across more than 3,000 platforms.
Martin Fausset, CEO of Elbit Systems UK said: "Elbit Systems' reputation as a leader in solutions for land forces is based on more than four decades of experience.
"Elbit produces one of the most diverse and comprehensive ranges of land-based sensors and systems in the industry. The company's total solution concept covers the entire spectrum of combat vehicles, from complete modernization and training to maintenance depots and life-cycle support services.
"Working through its UK subsidiaries, which employ some 500 people, Elbit Systems Ltd expects to both create and sustain high tech jobs in several locations across the country."