BAE Systems is working on the ACV 1.1 program
Category: Defence Industry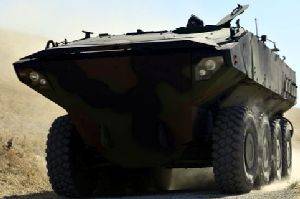 BAE Systems has submitted its bid for the Amphibious Combat Vehicle (ACV) 1.1 down-select with an offering that has superior mobility, survivability and increased carry and payload.
BAE Systems, originally selected for the engineering and manufacturing development phase of the ACV 1.1 program in November 2015, delivered 16 prototypes to the U.S. Marine Corps on schedule, and has gone through several months of extensive government testing of the vehicles. The Marine Corps is scheduled to make a low-rate initial production award to a single contractor in June 2018.
BAE Systems was teamed with IVECO Defence Vehicles, which brings additional proven experience having designed and built more than 30,000 multi-purpose, protected, and armored military vehicles in service today. With seven years of ACV investment behind this two companies, it developed a solution, built from the ground up as an amphibious vehicle that offers superior mobility and survivability to enable Marines to complete their missions safely and effectively.
BAE Systems's offering has been validated through thousands of miles of U.S. Government testing. The testing provided proof that the vehicle can launch from and recover to an amphibious ship followed by a 12 nautical mile open ocean swim.
"We are honored to continue our legacy of providing the Marine Corps with superior amphibious capabilities," said John Swift, program director for amphibious combat vehicles at BAE Systems. "Our ACV team has worked diligently to achieve superior U.S. Government test results that meet objective requirements for land and sea mobility, and protection. I'm proud of all the team's hard work that was needed to achieve this."
BAE Systems
10.01.2018

BAE Systems` CV90 increases lethality by testing SPIKE LR anti-tank guided missile
14.01.2020
U.S. Marine Corps orders more Amphibious Combat Vehicles
11.11.2019
RAVEN Countermeasure System protects vehicles from missile threats
15.10.2019
BAE Systems unveils Robotic Technology Demonstrator Vehicle at AUSA
15.10.2019
BAE Systems Land Systems Hagglunds AB
BAE SYSTEMS Advanced Technology Centre
BAE SYSTEMS Customer Solutions & Support Land & Sea
BAE SYSTEMS Operational Training
BAE SYSTEMS RO Defence Small Arms Ammunition Division
BAE Systems North America, Land & Information Systems