Austria to Purchase Mobile Air-Transportable Dingo 2 Vehicles
Category: Defence Industry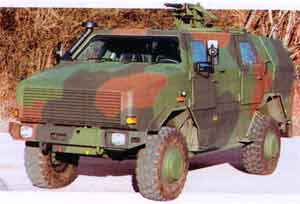 Austria has placed an order with the German company Krauss-Maffei Wegmann for twenty 4õ4 armoured cars designated Dingo 2. This deal is the first export order of these new vehicles.
Earlier, the German Army ordered 147 Dingo armoured cars to establish three military units. The vehicles already took part in operations in Afghanistan as well as Bosnia and Herzegovina.
The Dingo 2 is a high mobility vehicle based on the 'of-the-shelf' chassis Unimog Model U5000, which is produced by another German company, Mercedes-Benz. According to the Krauss-Maffei Wegmann company, the vehicle has a high degree of protection against small arms fire, artillery shrapnel and splinters as well as anti-personnel and anti-tank mines.
The Dingo 2 can be transported by NATO-standard aircraft C-130. Besides, it can be transported as suspended under the belly of the CH-47D Chinook helicopter.
The vehicle can accommodate 8 infantry soldiers, fully equipped. It can move on hard-surface roads at speeds of up to 90 km/h with the fuel distance being 1,000 km.
The vehicle is fitted with an air-conditioning system and an engine-independent heater, brake anti-locking system, rear view camera, GPS-based navigation system, modern external and internal communications system as well as collective NBC protection system.
Apart from the capability to act as an armoured personnel carrier, the vehicle can be used for fulfilment of special missions, such as intelligence, command and fire support. The German Army requires around 1,600 vehicle of this class, 52 of which have already been delivered. Dingo 2 licensed production rights have already been acquired by the American Textron Marine and Land Systems company, which is going to produce it within the framework of the US programme 'Foreign Military Sales'.
In December 2004 Austria received the first Dingo 2 vehicle. The remainder (19 vehicles) will be supplied during the year 2005.
Sergyi Wey
11.01.2005


www.army-guide.com
Share...




Multimillion-euro order from Hungary
02.10.2019
Krauss-Maffei Wegmann supports the modernization of the Hungarian Army
22.12.2018
Rheinmetall ships 200th Puma IFV to the Bundeswehr
05.06.2018
Lithuania boosts army with 88 BOXER vehicles
24.08.2016
Krauss-Maffei Wegmann GmbH & Co.KG - KMW
DINGO 2 (Wheeled armoured personnel carrier)
DINGO 2 (Repair and recovery vehicle)
DINGO 2 GSI (Repair and recovery vehicle)
DINGO 2 GSR (Reconnaissance Vehicle)
DINGO 2 HD (Wheeled armoured personnel carrier)
Discuss