German parliament decides to procure 272 BOXER vehicles
Category: Contracts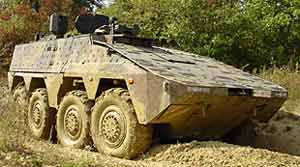 Krauss-Maffei Wegmann (KMW) welcomes the decision of the German parliament (Bundestag) in Berlin to procure 272 highly protected BOXER vehicles.
It has set with this decision an especially important procurement milestone towards a European-developed armored transport vehicle involving border-crossing production with the Dutch partner. The Dutch armed forces will procure 200 BOXER vehicles as well.
The positive decision of the German legislature in favour of the Boxer is a clear signal for mission- oriented equipment of modern armed forces and at the same time underlines the firm intent to define and use defense procurement projects from a European perspective and on a border-crossing and multi-national basis.
BOXER
With the BOXER, the Dutch and German armed forces will in future have a vehicle of modular construction, capable of deployment for a variety of demanding missions. It takes just a few minutes to exchange so-called mission modules on a common vehicle chassis for highly protected personnel transport as well as for command, ambulance, maintenance and cargo functions. The BOXER is an optimally protected, highly mobile transport vehicle of high payload capacity and can be deployed reliably even in extreme environments. Its comprehensive protection against mines and ballistic threats is based on the most advanced technologies and guarantees maximum crew survivability. High mobility, stealth design, modern observation equipment, an effective self-defense armament, the smoke grenade launcher as well as the standard NBC protection and environmental control system are further key features enhancing survivability in critical situations. With its consistent modular construction, the BOXER represents an ideal, highly flexible system platform for a variety of different missions. Its high payload capacity, combined with a large, fully protected interior, permits the integration of complex kits and offers future-oriented growth potential. Proven powerpack and suspension components ensure superb off- and on-road mobility in any situation. Rapid availability in out-of-area missions is guaranteed by its airportability on the Airbus A 400M.
ARTEC
The BOXER is a German-Dutch procurement project developed within the program organisation of ARTEC, a consortium consisting of the companies of Krauss-Maffei Wegmann (36%), Rheinmetall Landsysteme (14%) and Stork (50%).
Krauss-Maffei Wegmann
Krauss-Maffei Wegmann GmbH und Co. KG is Europe's market leader for armored wheeled and tracked vehicles. With a workforce of approximately 2,800 and extensive system expertise, KMW as the leading system manufacturer develops, manufactures and supports a product line up ranging from air portable and mine-protected wheeled vehicles (MUNGO, DINGO and BOXER), to reconnaissance, air defense and artillery systems (FENNEK, GEPARD, PzH 2000 and AGM) all the way to heavy battle tanks (LEOPARD 1 and 2) and armored infantry fighting vehicles (PUMA). The armed forces of 29 nations worldwide rely on operational systems supplied by KMW.
Sergyi Way
15.12.2006


www.army-guide.com
Share...




£2.8bn armoured vehicle contract secured for British Army
11.11.2019
Multimillion-euro order from Hungary
02.10.2019
The Dutch armed forces select Rheinmetall to modernize their Bergepanzer 3 Büffel
17.05.2019
Krauss-Maffei Wegmann supports the modernization of the Hungarian Army
22.12.2018
Krauss-Maffei Wegmann GmbH & Co.KG - KMW
Boxer GTK/MRAV/PWV (Wheeled armoured personnel carrier)
Boxer IFV (Infantry fighting vehicle)
Boxer BDR (Repair and recovery vehicle)
Boxer C (Ammunition resupply vehicle)
Boxer C2 (Ammunition resupply vehicle)
Boxer CPV (Control and command vehicle)
Boxer SPH (Self-propelled howitzer)
Boxer HEL (Fire support vehicle)
Discuss