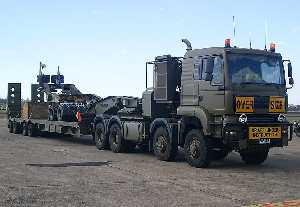 Australian Defence Materiel Organisation (DMO) has placed an order for four more Heavy Tank Transporters. These vehicles are in addition to the 14 Heavy Tank Transporters already being delivered by the LAND 907 Tank Program.
To date the DMO has delivered nine of the original 14 vehicles ahead of schedule and on budget. Five of these vehicles were used to move the first Abrams tanks when they arrived at Port Melbourne from the United States in September 2006.
The additional Heavy Tank Transporters will provide increased heavy transport capability for Defence elements in Puckapunyal and Townsville. The transporters will allow Army to move a range of heavy equipment including tanks, earth moving equipment and large forklifts. Delivery of the additional vehicles is expected by the end of 2007.
Australian industry continues to provide a significant part of the capability. The prime contractor for the project is MAN Military Vehicle Systems Australia. An Australian owned and operated company, Drake Trailers, will supply a total of 18 swing-wing trailers prior to Brisbane-based MAN Automotive Imports making final modifications, conducting compliance testing and managing the ongoing repair and maintenance support.
Contrary to some media reports, the Heavy Tank Transporters are capable of moving tanks on Australian roads.