Israeli Firm Wins U.S. Weapons Contract in Iraq
Category: Defence Industry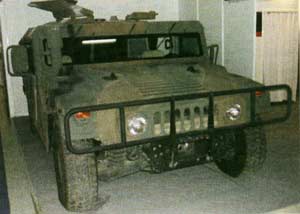 Israeli company Plasan Sasa has won a contract to provide armor for U.S. military vehicles in Iraq, company sources said March 8.
Under the terms of the contract, the Sasa kibbutz company in the northern Galilee region will provide amour for 2,000 trucks and other vehicles. It will supply kits that can be assembled on site by U.S. troops serving in Iraq.
Aside from the Israeli and U.S. armies, Palsen Sasa also supplies the British, Dutch and Indian militaries.
The U.S. military has recently suffered criticism that its vehicles operating in Iraq are insufficiently protected with amour plating.
REUTERS
11.03.2005

LM Havoc 8x8 Demos High Levels of Crew Protection in Marine Corps
25.09.2013
Navistar Defense Displays Military Vehicles for Future South African Truck Requirement
21.09.2010
Navistar Defense to Produce Additional U.K. Tactical Support Vehicles
08.09.2010
Oshkosh Defense to Introduce M-ATV to European Market at International Armoured Vehicles Exhibition
02.02.2010