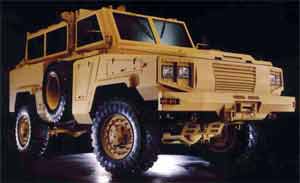 LONDON, Ontario, Canada - The U.S. Army Communication and Electronics Command, on behalf of the U.S. Army Program Manager for Close Combat Systems, has awarded General Dynamics Land Systems - Canada a contract with a potential value not to exceed USD $78 million (CAD $97 million) for 148 RG-31 Medium Mine Protected Vehicles. Included in this price is USD $3 million in spare parts. General Dynamics Land Systems, the Canadian company's parent corporation, is a business unit of General Dynamics (NYSE: GD).
Under this contract, General Dynamics Land Systems - Canada will provide the program management and logistics support while BAE Land Systems OMC of South Africa will manufacture the vehicles.
The contract, which has initial funding of USD $38.2 million, was signed through the Canadian Commercial Corporation, a Crown Agency of the Canadian Government. Final contract definition and pricing is expected to be completed by April 2005. Deliveries will occur from April to Dec. 2005.
The RG-31 tactical vehicle, a product of BAE Land Systems OMC of South Africa, offers excellent ballistic and mine blast protection, and will be used by the U.S. Army in support of on-going activities.
Nine RG-31s were previously supplied to the US Army in 2003 and 2004 and have seen service overseas. The Canadian Army has deployed three RG-31s as part of its contribution to the International Security Assistance Force in Afghanistan. In addition, the vehicles are extensively used by NATO forces in the former Yugoslavia as well as the United Nations in Lebanon, Georgia, Syria and Kosovo.
General Dynamics Land Systems - Canada, located in London, Ontario, Canada is a business unit of General Dynamics Land Systems of Sterling Heights, Michigan. For more than 25 years, approximately 1500 highly skilled technical personnel design, manufacture and deliver a unique family of light armoured vehicles (LAV). More information on the company is available at www.gdlscanada.com.
General Dynamics, headquartered in Falls Church, Virginia, employs approximately 70,200 people worldwide and had 2004 revenue of $19.2 billion. The company is a market leader in mission-critical information systems and technologies; land and expeditionary combat systems, armaments and munitions; shipbuilding and marine systems; and business aviation. More information about the company is available on the Internet at www.generaldynamics.com.