General Dynamics Receives Order for Fifth Stryker Brigade Vehicles
Category: Contracts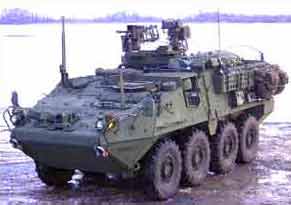 STERLING HEIGHTS, Mich. - The U.S. Army has ordered a fifth brigade of Stryker wheeled combat vehicles from General Dynamics Land Systems, a business unit of General Dynamics (NYSE: GD). The order for 423 vehicles to equip the brigade is valued at $582 million. Vehicle deliveries are slated for January 2006 through January 2007.
The vehicles are part of a $4 billion contract awarded in November 2000 to equip the Army's new Stryker Brigade Combat Teams with more than 2,100 Stryker armored vehicles. To date, more than 1,000 Strykers have been delivered.
The first Stryker brigade has been operating very successfully in Iraq since October 2003, demonstrating the value of a force that can move rapidly as a cohesive combined-arms combat team. The armored vehicles enable Stryker Brigade Combat Teams to maneuver easily in close and urban terrain, while providing protection in open terrain. Performance highlights include C-130 transportability; networked command, control, computing and communications, intelligence, surveillance and reconnaissance (C4ISR) capability; integral 14.5mm armor protection and 152mm artillery airburst protection; self-deployment and self-recovery capability; reduced vehicle acoustic signature; ability to carry a nine-man infantry or engineer squad; and bunker and wall breaching capability.
Stryker is the Army's highest-priority production combat vehicle program and the centerpiece of the ongoing Army Transformation. The Stryker family of eight-wheel-drive combat vehicles can travel at speeds up to 62 mph on highways, with a range of 312 miles. Stryker vehicle configurations include carriers for mortars, engineer squads, infantry squads, command groups, and fire support teams; a nuclear, chemical and biological reconnaissance vehicle; anti-tank guided missile and medical evacuation vehicles; and the Mobile Gun System, a 105mm cannon mounted in a low-profile turret that is integrated into the Stryker chassis.
General Dynamics, headquartered in Falls Church, Va., employs approximately 70,200 people worldwide and had 2004 revenue of $19.2 billion. The company is a market leader in mission-critical information systems and technologies; land and expeditionary combat systems, armaments and munitions; shipbuilding and marine systems; and business aviation. More information about the company is available on the Internet at www.generaldynamics.com.
Pete Keating
13.03.2005


www.gdls.com
KONGSBERG CONCLUDES A $ 54 MILLION CONTRACT FOR THE DELIVERY WEAPON STATIONS TO CANADIAN ARMY
05.06.2020
General Dynamics Land SystemsľUK showcases adaptable Foxhound vehicle at DSEI 2019
23.09.2019
U.S. Army awards General Dynamics contract for Mobile Protected Firepower
19.12.2018
General Dynamics Receives Delivery Order to Upgrade 100 Abrams Main Battle Tanks
31.07.2018
General Dynamics Land Systems - GDLS
General Dynamics Land Systems - GDLS - Canada
STRYKER ICV (Wheeled armoured personnel carrier)
STRYKER M1129 MC (Mortar vehicle)
Stryker ICV (Wheeled armoured personnel carrier)
STRYKER (Self-propelled howitzer)
STRYKER IFV M1126 (Infantry fighting vehicle)
STRYKER M1127 RV (Wheeled armoured personnel carrier)
STRYKER M1130 CV (Command vehicle)
STRYKER M1132 ECV (Engineer vehicle)
STRYKER M1133 (Ambulance vehicle)
STRYKER M1134 (Self-propelled antitank guided missile system)
STRYKER M1135 NBCRV (Nuclear/biological/chemical reconnaissance vehicle)
STRYKER M1132 (Mine clearing vehicle)
STRYKER XM1128 MGS (Fire support vehicle)
STRYKER XM1134 (Self-propelled antitank guided missile system)
STRYKER M1131 FSV (Fire support vehicle)
STRYKER M1133 MEV (Ambulance vehicle)