QinetiQ is part of UK industry team for FRES bid Generic FRES-type utility vehicle
Category: Defence Industry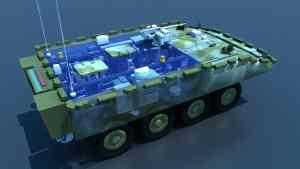 A team led by BAE Systems that includes QinetiQ, Cranfield University, GE Aviation, SAIC, and SELEX Sensors & Airborne Systems has been assembled to deliver a battle-winning fleet of medium-weight armoured fighting vehicles for the British Army.
The team will compete for the role of Vehicle Integrator for the 'Utility' family of FRES (Future Rapid Effect System), the first and largest element of the programme. The successful bidder is expected to take an overseas vehicle design, and customise, manufacture and support it through life to meet UK Ministry of Defence (MoD) requirements.
The vehicle will be based on an eight-wheeled design currently being selected by the MoD and is expected to enter service from 2012. Some 7000 jobs will be sustained by the overall FRES programme.
BAE Systems Land Systems leads the FRES bid. Managing director Andrew Davies comments: "This team, and the know-how within our existing supplier base, can provide the British Army with a vital asset while giving the taxpayer value for money and ensuring the retention of key UK skills for the continued support and upgrade of all the British Army's in-service fleet of vehicles. We can also draw upon the global resources of BAE Systems, the world's largest land systems company."
"As the UK Defence Industrial Strategy states, and recent operational experience demonstrates, retention of key skills in the UK is vital if the front line is to be assured of receiving the service it needs. Over the past 18 months BAE Systems and its partners have responded on time to more than 80 Urgent Operational Requirements under which we have modified existing vehicles to meet new threats to our troops. These are some of the skills, resources and experience we would bring to FRES."
"QinetiQ is delighted to be part of this team which collectively possesses the necessary credentials to deliver such an important element of the FRES programme," added Clive Richardson COO of QinetiQ's EMEA operation. "Focussing on the needs of our armed forces is a top priority for QinetiQ. Therefore, being part of the FRES Utility Vehicle Integrator programme would present QinetiQ with an ideal opportunity to demonstrate pull through of its know-how, developed over many years in delivering MODs cutting edge research programmes that have shaped and underpin its current capabilities."
FRES is worth up to £16bn for the acquisition phase. It will provide the British Army with up to 17 vehicle variants in five families for a wide range of battlefield tasks. These vehicles will be heavily protected but light enough to be deployed by air. More at: baesystems.com/fres.
QinetiQ
22.11.2007

Share...




QinetiQ and Pratt Miller Deliver First Robotic Combat Vehicle - Light to U.S. Army
02.02.2021
BAE Systems Teams with QinetiQ to Pursue Electric Drive on Combat Vehicles
04.06.2017
QNA Partners with Persistent Systems to Integrate MPU5 Radios into Family of UGV
12.01.2017
BAE Systems` Team Challenger® 2 awarded Assessment Phase for Life Extension Project
25.12.2016
BAE Systems Land Systems Hagglunds AB
Discuss