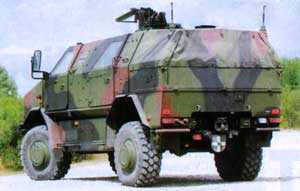 Prague, Nov 21 (CTK) - Czech military intelligence service (VZ) director Ondrej Palenik on Tuesday signed a contract with the MPI Group company on the purchase of four light APCs Dingo 2, Defence Ministry spokesman Andrej Cirtek has written on the ministry's web page.
The producer is to supply the vehicles worth about 135 million crowns (about $7.8 million) by the end of February 2008.
The server Euro Online previously said the ministry had decided to buy the four Dingo 2s without disclosing the conditions of the tender in question.
The VZ reportedly addressed six to eight companies within the selection proceedings, but only two finally competed for the order.
Cirtek has said that the order was placed in accordance with the law on public orders.
"The supply was needed urgently. It could not be met in a different kind of procedure for time reasons," Cirtek said.
He said the Dingo 2s should be used in Afghanistan by members of the Czech reconstruction team to be deployed in the Logar province next March.
Dingo 2s are not the first APCs the Czech military plans to buy. The ministry is also preparing a draft contract on the purchase of four light APCs Iveco, which are to be used by the Czech military police's special unit operating in the Afghan province of Hilmand.
The Ivecos order's cost is about 100 million crowns, according to the ministry.
The Americans have probably offered further help in this respect. According to the press, they are to lend over 20 Humvee vehicles to the Czech military which is to use them either in Iraq or Afghanistan.
The ministry says the planned purchase of eight light APCs will meet only the most urgent need. In the future, it will be necessary to buy tens of light APCs, for which public tenders will be launched, the ministry says.
Apart from the light APCs, the Czech military has bought 199 heavy APCs Pandurs worth more than 23 billion crowns from the Austrian company Steyr, which is one of the biggest orders in the Czech military's history.