NAMSA Signs MOU with Israel
Category: Army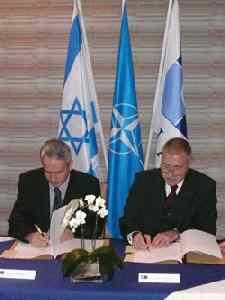 On 21 November, in a ceremony held at NAMSA, the Agency signed a Memorandum of Understanding (MOU) on Logistic Support Cooperation with Israel.
The MOU is of particular importance to many NATO nations currently operating equipment of Israeli origin as it facilitates access to Israeli industry for the acquisition of unique spares and services. Currently NAMSA has to go through a lengthy authorisation process to acquire these. It is expected that the MOU will permit to simplify and expedite this process, for the benefit of NATO members.
In addition, the MOU offers an opportunity for Israel to cooperate in the domain of Trust Fund demilitarization projects where NAMSA is the Executing Agent.
Israel is the second Mediterranean Dialogue (MD) nation to sign an MOU with NAMSA. Cooperation between NAMSA and MD nations contributes to NATO's efforts for peace and stability in the Middle East.
The MOU was signed by H. E. Mr Ran Curiel, Ambassador of the State of Israel to EU, and by Mr Karl-Heinz Münzner, NAMSA General Manager. Mr Bruno Cantin, NATO Secretary General Liaison Officer to NAMSA, also attended the ceremony, thus underlining NATO's interest in the NAMSA-Israeli cooperation.
NAMSA
28.11.2007

Share...




Robotic Warfare Systems Will Bring Disruption to the Battlefield, Milrem Robotics' Study Finds
25.04.2019
DRS Technologies Awarded Up To $400 Million U.S. Army Contract To Build New Joint Assault Bridge System
29.08.2016
AM General Secures Additional $57 M In HMMWV Vehicle And Parts Sales
01.03.2016
Arotech Power Systems Division receives $8.5 million in new order from the Israel Ministry Of Defense
23.02.2016
I.M.I. Israel Military Industries Ltd
Asian Defence Journal Office for Scandinavia/Benelux/Israel
Asia-Pacific Defence Reporter Representative in Israel and Turkey
Israel Aerospace Industries - IAI
Israel Aircraft Industries Ltd (IAI), Tamam Division
I.M.I. Israel Military Industries Ltd, Slavin Plant
Israel Weapon Industries Ltd. - I.W.I.
Discuss