Integrated HF Radio system for Armoured vehicles
Category: Defence Industry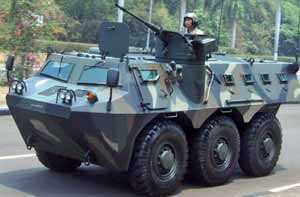 In response to customer demand, Q­MAC developed a higher power, heavy duty variant of the HF-90M radio system for application on armoured (tracked and wheeled) fighting vehicles.
The new system configuration was released in 2005 and comprised:
The popular and combat proven 50 watt HF-90M Frequency Hopping transceiver.
A newly designed military build standard HF-150M 150 watt booster amplifier.
A newly designed military build standard TA-91M Antenna Tuning Unit
A new NATO/US standard 4.2 metre vertical whip antenna with heavy duty Base.
The new system offered a linear 150 watt output across the whole 2 MHz to 30 MHz HF band and maintained full compatibility with the company's highly secure Frequency Hopping option, thereby maintaining a high degree of communication security.
Furthermore, in appreciation of real-world operating conditions, the new Amplifier features "off tune" and "missing antenna" protection and in the event of the 150 watt amplifier failing for any reason the system can revert to bypass mode. Some two years later, it can be reported that this heavy duty configuration has found favour with both new and existing military customers and has entered service in tracked and "big-wheeled" vehicles for domestic and peace keeping UN roles.
Furthermore, to meet additional customer demand, Q­MAC worked extensively with systems integrators to develop the following products:
Associated anti-vibration shock mounting platforms for all system elements
Combat helmets (army green, UN blue, others)
Contracts to the value of many millions of Dollars have now been completed and Q-MAC is confident approaching any military vehicle project.
AT Communication
30.01.2008
www.at-communication.com/en
Share...




AT Communication is pleased to announce the expansion of its Tactical range of transceivers with the launch of the Sentry-H™ High Frequency (HF) SDR radio
22.09.2016
AT Communication is pleased to announce the launch of the AT SA Situational Awareness Terminal
11.06.2016
AT Communication International establishes US Headquarters in Rochester, New York
23.04.2016
AT Communication is pleased to announce the AT GNSS-01 Multi System GPS Receiver
28.11.2015
Discuss