Kharkiv Morozov Machine Building Design Bureau offers a new training system
Category: Training And Simulators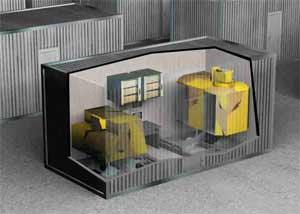 Ukrainian enterprise - SOE KMDB - offers a new training system for the personnel of armoured equipment - mobile crew simulator.
The mobile simulator can be a universal means for training of the armoured equipment personnel.
Owing to original design of the dynamic platform, the designers managed to mount two dynamic simulators with all the requisite systems in a standard 20-foot marine container.
One of them being the driver's simulator, whereas the second one – for the turret crew (commander and gunner). Thus, the complete tank or infantry fighting vehicle crew simulator is mounted inside one container.
It can be transported by any means, designed for transportation of 20-foot containers, and it can be activated for operation and vice versa within the shortest possible time. Up to 20 simulators can be connected in the network for joint elaboration of tactical tasks within one virtual test range. Its serviceability both in stationary conditions of the specialised training centres and in field conditions is ensured by independent power supply source.
All these facilities make it possible to use such simulators not only for training, but also for maintaining of the crew skills and their preparation for fulfilment of particular combat operations at the units permanent places of disposition.
The use of mobile simulators allows to solve a wide range of training tasks – starting with driving training and firing - to practical solution of tactical tasks of the company level, and without deceasing the quality of training, to considerably reduce its terms and cost several-fold.
The Morozov KMDB has been engaged for many years in developing of various training systems for the armoured equipment and supplied them both to the Ukrainian army and to armies of some other countries.
Share...




Problems of Russian Vacuum APFSDS-T projectile
25.01.2019
Expal Presents a New Configuration of the EIMOS 81 MM Mortar System Integrated in a 4x4 Vehicle
18.06.2018
SAAB Receives Order For Upgrade Of German Army Vehicle Simulators
12.01.2018
SAAB Chosen As Sub-Contractor For The Ajax Virtual Crew Turret Trainer
14.10.2017
Kharkiv Morozov Machine Building Design Bureau - KMDB
Discuss