General Dynamics Awarded $14 Million for Enhanced Reactive Armor Production for Bradley Fighting Vehicles
Category: Contracts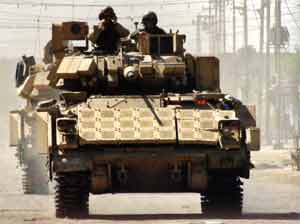 CHARLOTTE, N.C. --- General Dynamics Armament and Technical Products, a business unit of General Dynamics, has been awarded a $13.8 million modification from the U.S. Army`s TACOM/ARDEC Picatinny Arsenal (Picatinny, N.J.) for the production of enhanced-capability reactive armor for the Bradley Fighting Vehicle System.
This award modifies a contract originally awarded in November 2004, bringing the total contract value to $46.75 million for 152 vehicle sets. The reactive armor package, designed specifically for the U.S. Army Bradley Fighting Vehicle, is saving lives and preventing crippling damage to combat vehicles in Iraq, giving units equipped with the armor a clear advantage on the battlefield.
The system is made up of "tiles" that fasten to the exterior of the vehicles. Equipped with the General Dynamics reactive armor, the Bradley is better able to withstand a direct hit from a variety of anti-armor munitions, including shoulder-fired rocket propelled grenades, which are prevalent in many of today`s regional conflicts. This contract modification represents the continuation of a successful program with the Army and a successful relationship with General Dynamics` strategic partner, RAFAEL Armament Development Authority Ltd., Ordnance Systems (Haifa, Israel), which will share 50 percent of the production workload.
The production program will be directed from the General Dynamics Armament and Technical Products Burlington Technology Center, Burlington, Vt., with U.S. tile production occurring at the company`s reactive armor facility in Stone County, Miss. General Dynamics Armament and Technical Products, located in Charlotte, N.C., provides a broad range of system solutions for military applications. The company designs, develops and produces high-performance armament systems; a full range of advanced composite-based products; biological and chemical detection systems; and mobile shelter systems.
General Dynamics
05.05.2005

Share...




KONGSBERG CONCLUDES A $ 54 MILLION CONTRACT FOR THE DELIVERY WEAPON STATIONS TO CANADIAN ARMY
05.06.2020
Germany awards 159 MUSD vehicle contract to GDELS
24.04.2020
BAE Systems` CV90 increases lethality by testing SPIKE LR anti-tank guided missile
14.01.2020
Switzerland awards contract to General Dynamics European Land Systems- Mowag to deliver 100 EAGLE 6x6 reconnaissance vehicles
06.12.2019
General Dynamics Land Systems - GDLS
General Dynamics Ordnance and Tactical Systems
General Dynamics European Land Systems-Mowag GmbH
RAFAEL Armament Development Authority Ltd.
General Dynamics Santa Barbara Sistemas
General Dynamics Armament Systems
General Dynamics Defence Systems
General Dynamics European Land Systems-Steyr GmbH
General Dynamics Armament and Technical Products (GDATP)
General Dynamics Amphibious Operations - GDAMS
RAFAEL Ordnance Systems Division
General Dynamics Corp., Advanced Information Systems
General Dynamics Robotic Systems - GDRS
General Dynamics Land Systems - GDLS - Canada
General Dynamics European Land Systems - GDELS
Bradley M2/M3 (Infantry fighting vehicle)
Bradley M2A3/M3A3 (Infantry fighting vehicle)
Bradley M6 Linebacker (Anti-aircraft system)
Bradley M2A3 (Modernization of the vehicle)
Bradley M7 (Observation Post Vehicle)
Bradley M2A1/M3A1 (Infantry fighting vehicle)
Bradley M2A2/M3A2 (Infantry fighting vehicle)
Bradley M2A3 IBAS (Modernization of the vehicle)
Bradley AMTV (Ambulance vehicle)
Bradley AMEV (Ambulance vehicle)
Bradley BMV (Self-propelled mortar)
Discuss