General Dynamics Awarded $141 Million to Upgrade Abrams Tanks
Category: Contracts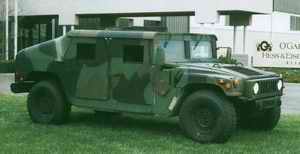 STERLING HEIGHTS, Mich. - The U.S. Army TACOM Lifecycle Management Command has awarded General Dynamics Land Systems, a business unit of General Dynamics (NYSE: GD), a $141 million contract to upgrade 60 M1A2 Abrams tanks to the latest System Enhancement Package (SEP) configuration (M1A2 SEP).
The M1A2 SEP fully digitized platform is the latest, most technologically advanced Abrams tank. It has the latest command and control system, second-generation thermal sights and improved armor. This retrofit is part of an overall M1A2 tank upgrade program that integrates new information technologies to improve soldier warfighting capability with enhanced command and control features like color maps and displays, high-density computer memory, increased microprocessing speed and networked communications. These 60 M1A2 tanks have been in service for the past 15 years.
Work is slated to begin in July 2005 and will be performed in Lima, Ohio; Anniston, Ala.; Sterling Heights, Mich.; Tallahassee, Fla.; Scranton, Pa.; and Fort Hood, Texas, by existing General Dynamics employees. Vehicle deliveries to General Dynamics are scheduled for January through October 2007, with vehicle hand-off to the U.S. Army expected in January 2008.
GDLS
22.06.2005

Share...




KONGSBERG CONCLUDES A $ 54 MILLION CONTRACT FOR THE DELIVERY WEAPON STATIONS TO CANADIAN ARMY
05.06.2020
Germany awards 159 MUSD vehicle contract to GDELS
24.04.2020
Switzerland awards contract to General Dynamics European Land Systems- Mowag to deliver 100 EAGLE 6x6 reconnaissance vehicles
06.12.2019
General Dynamics Land Systems–UK showcases adaptable Foxhound vehicle at DSEI 2019
23.09.2019
General Dynamics Land Systems - GDLS
General Dynamics Ordnance and Tactical Systems
General Dynamics European Land Systems-Mowag GmbH
General Dynamics Santa Barbara Sistemas
General Dynamics Armament Systems
General Dynamics Defence Systems
General Dynamics European Land Systems-Steyr GmbH
General Dynamics Armament and Technical Products (GDATP)
General Dynamics Amphibious Operations - GDAMS
General Dynamics Corp., Advanced Information Systems
General Dynamics Robotic Systems - GDRS
General Dynamics Land Systems - GDLS - Canada
General Dynamics European Land Systems - GDELS
M1A2 Abrams (Main battle tank)
M1A2 Abrams (Modernization of the vehicle)
Discuss