Iran Starts Manufacture of Rapid Reaction Tanks
Category: Defence Industry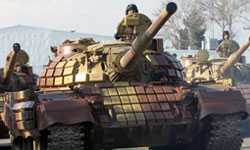 TEHRAN (FNA)- Iran has launched a production line for superior Rapid Reaction tanks as part of the country's campaign for self-sufficiency in defense.
Iran has successfully started the production of a Rapid Reaction tank named "Tosan", Head of the self-sufficiency unit of the Islamic Revolution Guards Corps (IRGC) ground forces, Colonel Nasser Arab-Beigi was quoted by press tv as saying.
"Military equipment needs to be upgraded in accordance with the latest developments in global technology," said Arab-Beigi, adding that the current situation calls for a significant enhancement of the country's defense capacity.
The self-sufficiency unit is also working on projects to enhance passive defense systems and secure the country's military sites, he said.
He also warned that every enemy move in the Persian Gulf and on Iranian borderlines is under the full surveillance of the IRGC forces.
The United States and its allies have accused Iran of trying to develop nuclear weapons under the cover of a civilian nuclear program. Iran has denied the charges, insisting that its nuclear program is for peaceful purposes only.
The administration of US President George W. Bush has said it will take "no option off the table."
Some observers believe it is possible that the United States and Israel would attack Iranian targets over Tehran's civilian nuclear program.
The New York Times has reported recently that US military believed a major military exercise by Israel in early June was a rehearsal for a potential bombing attack on Iran's nuclear sites.
Following the US National Intelligence Estimate (NIE) and similar reports by the IAEA head - one in November and the other one in February - which praised Iran's truthfulness about key aspects of its past nuclear activities and announced settlement of outstanding issues with Tehran, any effort to impose further sanctions or launch military attack on Iran seems to be completely irrational.
The February report by the UN nuclear watchdog, the International Atomic Energy Agency, praised Iran's cooperation in clearing up all of the past questions over its nuclear program, vindicating Iran's nuclear program and leaving no justification for any new UN sanctions.
FARS
02.07.2008
www.farsnews.com
Share...




Asymmetric Warfare
31.07.2008
Booming Saudi Arms Buying Leads Middle East Arms Market
12.12.2006
Rosoboronexport has signed a contract on supply of air defence systems to Iran
09.12.2005
IRAN ELECTRONICS INDUSTRIES (IEI)
Iran Electronics Industries Co (I.E.I.)
Ministry of Defence & Armed Forces Logistics of I.R. IRAN (MODLEX)
IRAN COMMUNICATIONS INDUSTRIES (ICI)
INFORMATION SYSTEMS OF IRAN (ISIRAN)
IRAN ELECTRONIC RESEARCH CENTER
Discuss