Korea Signs $400 Million Contract with Turkey on Transfer of Tank Technology
Category: Defence Industry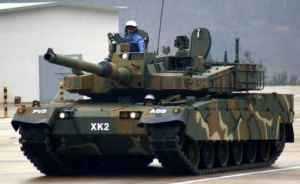 The Defense Acquisition Program Administration said Wednesday (July 30) that Korea has signed a $400 million deal with Turkey to help develop a new tank by 2015, using over 50 percent of Korea's indigenous technology on the armored vehicle.
The deal was signed between Korean tank manufacturer Hyundai Rotem and Turkish carmaker Otokar in a ceremony attended by Korean Defense Minister Lee Sang-hee and Turkish Prime Minister Recep Tayyip Erdogan in Ankara.
The contract also includes the transfer of technology owned by Korea's state developer, the Agency for Defense Development (ADD), according to the Korean defense procurement office.
The contract is very significant in that Korea is now exporting not only defense goods, but also defense technology, the defense procurement office said in a media release.
Korea competed against Germany for the $400 million project to help develop Turkey's new main battle tank, which will be the country's first-ever indigenous tank, according to the defense procurement office. Turkey plans to produce some 200 units of the next generation tank, provisionally named Turkey National Main Battle Tank, upon completion of its development.
Turkey is one of the largest purchasers of Korean defense articles and is set to buy some $100 million worth of weapons, including 155mm self-propelled artillery, from Korea this year alone, according to the defense procurement office.
Korea developed its first indigenous tank, the K-1, in 1988 and is set to replace the main battle tank with the next generation K-2 tanks starting 2010.
Seoul exported some $850 million worth of defense articles last year, with the export expected to grow to over $1 billion this year for the first time in history, the defense procurement office said in the media release.
Korean press reports say that South Korea will transfer key technologies regarding engine, gunnery and snorkeling systems to Turkey, which initially wants to build about 250 advanced main battle tanks, totaling about 60% of the technology required to build the Turkish tanks. Turkey will develop a fire control system on its own.
Korea's $400 million technology transfer fee includes production costs for four prototype tanks and components, and expenses for about 20 Korean engineers seconded to Turkey for the program.
KOIS
31.07.2008

Share...




AV-8 AENBCRV Vehicle Prepares to Enter Malaysian Army Inventory
29.04.2019
AKREP II electric armored vehicle presented in Turkey
25.04.2019
The Indonesian PT Pindad medium tank tested by mine explosion
13.07.2018
Otokar debuts its Light Tank in Paris
19.06.2018
Asia-Pacific Defence Reporter Representative in Israel and Turkey
Defense News Representative in Turkey
Asian Defence Journal Office for South Korea
SOOA Corporation CRM Korea Corporation
The Events Organiser, Korea Aerrospace Industries Association
KOREA DEFENSE INDUSTRY ASSOCIATION - KDIA
ROCKIES KOREA TECHNOLOGIES CO., LTD
The Scientific and Technical Research Council of Turkey (TUBITAK)
Discuss