Proton Energy Systems secures $1.8m military hydrogen refuelling contract
Category: Future Technologies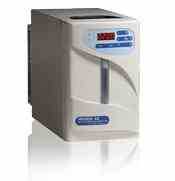 Wallingford, CT – (November 17, 2008) – The U.S. Army's Tank-Automotive Research, Development and Engineering Center (TARDEC) announced today it has awarded a $1.8 million contract to Proton Energy Systems to develop an advanced hydrogen fueling system capable of sustaining a military fleet of hydrogen-powered vehicles.
"Proton Energy Systems is proud to partner with TARDEC to develop and implement this progressive hydrogen fueling technology," said Rob Friedland, President and Chief Executive Officer of Proton Energy Systems. "Our mission is to apply hydrogen technology in creative and practical ways, and we are honored to work with TARDEC to develop fueling infrastructure that directly supports DOD's goals for clean vehicle technologies."
Proton Energy specializes in Proton Exchange Membrane (PEM) electrolyzers, a key component of the FuelGen® hydrogen generators, which are designed for commercial as well as military base fleet fueling. Employing hydrogen generators to replace traditional fueling systems will result in several key advantages, including the ability to fuel specialty military vehicles with reduced consumption of fossil fuels and increased efficiency and productivity. In addition, the hydrogen generators are compatible with the power characteristics of international grid systems, and can integrate with renewable electricity sources or hybrid power sources.
"The United States military is dedicated to developing the latest technology that will ultimately enable the realization of a state-of-the art hydrogen powered installation vehicle fleet which supports our petroleum reduction goals," said Paul Skalny, Director of the National Automotive Center, US Army TARDEC "Proton Energy Systems is a leader in hydrogen PEM technology. Our partnership with Proton is another critical step forward in the development of sustainable fueling, an initiative with vast military and civilian potential."
TARDEC's mission is to improve current military force effectiveness and to develop technology to ensure superior capability in the future. With this latest contract, Proton Energy Systems continues its partnership with the U.S. military. Last month, the U.S. Army's Engineer Research and Development Center (ERDC) awarded a $2.62 contract to Proton Energy to develop a Regenerative Fuel Cell System for "Silent Camp™" Operation. This fuel efficient, hybrid power system is designed to provide the military with critical tactical and fuel efficiency benefits.
About Proton Energy Systems
Proton Energy Systems designs and manufactures proton exchange membrane (PEM) electrochemical systems to make hydrogen from water in a zero pollution process producing safe, pure, reliable onsite hydrogen to meet today's global hydrogen requirements. Proton Energy Systems has been developing and manufacturing world-class electrolysis systems since 1996, with more than 1200 units deployed world-wide, on every continent. With a reputation for building robust, reliable, and safe systems, federal, state, and commercial partners repeatedly seek the creative solutions that Proton Energy Systems has proven it is capable of delivering.
Proton Energy Systems
30.11.2008

Share...




CTE Selected to Lead Hydrogen Fuel Cell Programme for US DoD
18.05.2010
Discuss