QinetiQ North America Announces New Orders for TALON Robots and Spares Totaling $58.5 Million
Category: Robots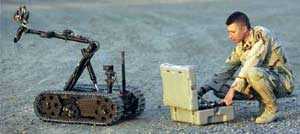 MCLEAN, Va. -- QinetiQ North America, a global developer of innovative technology solutions for national defense, today announced that the Foster-Miller subsidiary of its Technology Solutions Group has been awarded a total of $58.5 million in funding for additional TALON robots and replacement parts.
The total represents awards from the U.S. Army and Navy made during the six-month period since a new $400 million IDIQ (indefinite delivery, indefinite quantity) was announced last May.
The new delivery orders include $48 million against the $400 million IDIQ awarded by the Robotic Systems Joint Program Office (RSJPO) administered by the Program Executive Office - Simulation, Training and Instrumentation (PEO-STRI) and $10.5 million against the $295 million IDIQ awarded by the Navy's Explosive Ordnance Disposal Technology Division (NAVEODTECHDIV).
More than 2,400 TALON robots are now deployed around the world, with a significant number of them in Iraq and Afghanistan. They are used primarily to assist military personnel with the extremely dangerous job of detecting and disabling roadside bombs - the Improvised Explosive Devices (IEDs) planted by hostile forces to attack troops. TALON robots have been used in more than 100,000 counter-IED missions to date, saving countless lives in the process.
"TALON continues to play a vital role in the defeat of roadside bombs and IEDs in Iraq and Afghanistan," said Dr. William Ribich, President of the Technology Solutions Group. "In addition, our soldiers and marines are constantly exploring new ways to deploy the robots and maintain their own safe standoff distances in all types of challenging situations. We're pleased that the partnership of soldier and TALON is proving to be so durable and successful."
QinetiQ North America delivers world-class technology and responsive solutions to government agencies and commercial customers for many of their most urgent and complex challenges. QinetiQ North America is an independent, innovative technology provider that earns over a billion dollars in revenue operating with small company speed and agility while leveraging significant global resources.
QinetiQ North America's Technology Solutions Group, headquartered in Waltham, MA, includes the businesses of Foster-Miller, Inc., and its subsidiaries Planning Systems Incorporated, Automatika, Applied Perception, Spectro, Inc., and the research and development activities of Apogen Technologies, Inc.
QinetiQ
03.12.2008

Share...




BAE Systems Teams with QinetiQ to Pursue Electric Drive on Combat Vehicles
04.06.2017
QNA Partners with Persistent Systems to Integrate MPU5 Radios into Family of UGV
12.01.2017
BAE Systems` Team Challenger® 2 awarded Assessment Phase for Life Extension Project
25.12.2016
QinetiQ Australia starts fatigue testing on Thales's Hawkei vehicle
24.01.2016
TALON (Robot, Unmanned Vehicle)
Hafeet 640 Talon (Armoured car)
Discuss