SOE KMDB will supply armored personnel carriers to Iraq
Category: Defence Industry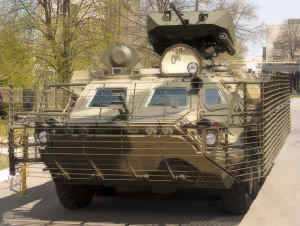 The first deputy to Secretary of the National security and defense council Stepan Gavrish informed that on December 11 Ukraine concluded the first among a series of large-scale contracts for supply of armaments to Iraq to the amount of more than $550 mln.
According to him, the contract envisages the supply of more than 400 armored vehicles within three to three and a half years.
The contract has been concluded by the leading armored equipment production enterprise of Ukraine – State owned enterprise Kharkiv Morozov Machine Building Design Bureau through intermediary of the Foreign trade company Progress.
Armored personnel carriers BTR-4 in several versions as well as special support vehicles, training facilities, service and support will be supplied to Iraq.
Prior to conclusion of the contract, the Iraqi side got acquainted with the whole range of equipment that is offered today in the market. The Ukrainian equipment attracted the customers by a good combination properties inherent in former Soviet equipment – simplicity, reliability, inexpensive servicing with high specifications that do not yield to modern western equipment.
Armored personnel carrier BTR-4 possesses high mobility that is ensured by 500 hp Ukrainian made 3TD engine. In its base configuration it is armed with a Grom weapon station whose armament – 30 mm gun, automatic grenade launcher, 7.62 mm machine gun and 4 anti-tank missile launchers is fully stabilized in two planes.
The vehicle layout is similar to Pandur, Piranha and AMV — the driver and commander are sitting in the front of the hull, the engine is in the middle, troops are in rear. The troops egress is through the rear door.
The vehicle has a modular protection design. In its base configuration it is protected from small arms of 7.62 mm armored piercing balls from any distance. Besides, one of the additional protection sets can be installed in field conditions. The first one is for urban conditions. It is a bar armor to protect from hand grenade launchers and additional mine protection. For use in open space – it is an additional ballistic protection from ammunition up to 30 mm in caliber.
In addition to powerful protection and armament, BTR-4 also possesses amphibious characteristics.
SOE KMDB
21.12.2009

Share...




General Dynamics Land Systems–UK showcases adaptable Foxhound vehicle at DSEI 2019
23.09.2019
UK Army Robotics Receive GBP66 M Boost
07.03.2019
Problems of Russian Vacuum APFSDS-T projectile
25.01.2019
FLIR Systems Awarded $74.7 Million Contract for Land Surveillance Systems for U.S. Army
04.10.2017
Kharkiv Morozov Machine Building Design Bureau - KMDB
Discuss