Oshkosh Defense Awarded $5 Million LVSR Delivery Order
Category: Contracts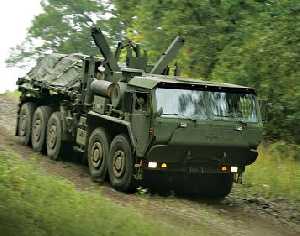 OSHKOSH, Wis. —— Oshkosh Defense, a division of Oshkosh Corporation (NYSE:OSK), has been awarded a delivery order to an existing contract with the U.S. Marine Corps Systems Command (MARCORSYSCOM) for more than 10 Logistics Vehicle System Replacements (LVSR).
The delivery order for the cargo variant of the vehicle is valued at more than $5 million and brings the total number of LVSRs under contract to 875.
Production and delivery of the LVSRs will be completed in October 2010, with all variants manufactured in the company's Wisconsin facilities. Oshkosh delivered its requirement of nearly 40 LVSRs in November, and set a record production number for the program when it produced more than 40 in October.
With improved survivability, mobility and performance, the next-generation LVSR expands on the original Logistics Vehicle System (LVS) produced by Oshkosh Corporation in the early 1980s. The Oshkosh® LVSR is used by the U.S. Marine Corps for the on- and off-road transportation of heavy payloads, such as munitions, fuel, water and heavy equipment.
The Oshkosh LVSR vehicle is equipped with the Oshkosh Command Zone™ embedded diagnostics system and the company's patented TAK-4® independent suspension system for superior off-road mobility in the most severe environments. The LVSR comes in three variants – cargo, wrecker and fifth-wheel – and features an on-road payload capacity of 22.5 tons and an off-road payload capacity of 16.5 tons.
Oshkosh has the available capacity, highly skilled workforce and proven manufacturing capability to deliver this order and vehicles for all other Marine Corps and Defense programs, including the MRAP All Terrain Vehicle (M-ATV) and the U.S. Army's Family of Medium Tactical Vehicles (FMTV), as well as any surges in production.
Oshkosh Defense
24.12.2009

Share...




Oshkosh Defense Receives Order for 248 Joint Light Tactical Vehicles
02.07.2020
Oshkosh Defense Receives $407.3 Million Order for Joint Light Tactical Vehicles
24.02.2020
Oshkosh Defense Exhibits JLTV Firepower at IDEX 2019
24.02.2019
Oshkosh FMTV A2 Makes Debut at Ausa 2018, Multiple JLTVS Command the Floor
14.10.2018
Discuss