Togo relies on Panhard
Category: Contracts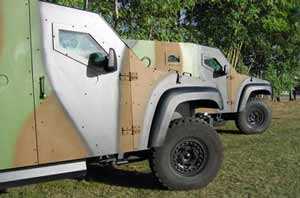 Panhard has delivered 80 TC54 trucks and six PVP armoured vehicles to Togo's Armed Forces. These vehicles will mainly be used to facilitate the deployment of Togolese units engaged in the MINURCAT mission in eastern Chad.
Togo had already acquired 30 TC54 trucks at the end of 2008 for the purposes of that mission. The PVPs have been painted white, in the United Nations colours.
The PVP, more than 500 of which are now in service with the French Army, is deployed in major theatres of operation. It is worth noting that Togo is the second largest customer on export markets, after a Latin American country. One of the attractive features offered by the PVP is its roomy interior. Its architecture was designed to provide the crew with as much space as possible. In addition, its walls are fitted with rails to allow the easy installation of equipment or changes in the vehicle's configuration. With a payload of one tonne, the PVP can carry four equipped crew members. Several versions have been developed to cater for the needs of different army branches, with specific versions being designed for artillery corps and transmissions branches in addition to command and antitank versions. The PVP, which is in the 5-tonne class, is much easier to handle in urban environments than its competitors owing to its small size. Intended for use in conflict areas, it is very suitable for use in narrow streets. With its powerful engine and automatic gearbox, it is also perfectly at home on rough terrain and offers excellent obstacle crossing capability. The possibility of adjusting tyre pressures from inside the cab is also a major advantage on soft ground. Furthermore, the PVP's ballistic protection system has undergone extensive studies and tests. Its armour-plating, incorporating steel, aluminium and ceramic components in particular, provides protection better than NATO STANAG level 2, which is unusual for vehicles of this tonnage. Special care was also taken to cater for the threat of improvised explosive devices. This protection makes the PVP very suitable for use in theatres of operation.
The TC54, a robust vehicle which is very much at home on rough terrain, is highly suitable for missions in desert regions where there are often long distances between a force's various components. This 4x4 truck, which is now mass produced, was developed to meet the specific needs of armed forces in the logistics field. The TC54 offers the best payload/vehicle weight ratio for this category of vehicle. In fact, its military payload of 5 tonnes is greater than the vehicle's empty weight (4.4 tonnes). This technical feat is achieved by employing innovative architectures to provide customers with substantial savings throughout the vehicle's service life and enhanced operational capability. The TC54 can be supplied in a variety of versions: command vehicle, shelter carrier, supply vehicle and troop carrier.
Panhard
10.03.2010

Share...




The Scarabee An Innovative Prototype
13.06.2018
The French ministry of Defence orders vehicles for its Special Forces
09.01.2016
Panhard vehicles at Eurosatory 2012
11.06.2012
France orders Wasp remote-controlled turrets for armored vehicles
21.02.2011
Societe de Constructions Panhard et Levassor
Discuss