Textron to Deliver 423 Additional Armored Security Vehicles to US Army
Category: Contracts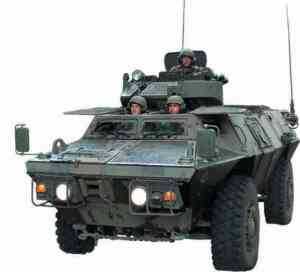 New Orleans -- Textron Marine & Land Systems, an operating unit of Textron Systems, a Textron Inc. company, today announced the signing of a new base contract award for the M1117 Armored Security Vehicle (ASV) and M1200 Armored Knight with the U.S. Army Tank-automotive and Armaments Command (TACOM).
The finalized contract includes an exercised option for 423 vehicles (327 M1117s and 96 M1200s) with provisions for future options of up to 272 more vehicles. These quantities are in addition to a base order previously awarded under a letter contract award of 191 M1117 ASVs and 65 M1200 Armored Knight vehicles, field support and special sustainment tools, as well as technical and field services.
Delivery of these latest orders are expected to commence October 2010 and, should all options of the contract be exercised, could continue through the first quarter of 2012.
The contract totals approximately $461 million with an additional $239 million in options remaining to be exercised. Textron Marine & Land Systems has delivered a total of 2,600 ASVs to the U.S. Army to-date.
"The ASV, which effectively addresses the U.S. Army's current requirements overseas and has significant upgrade potential to mitigate emerging threats, is seeing ever-expanding combat mission roles for the U.S. Army in Iraq and Afghanistan," said Textron Marine & Land Systems General Manager Tom Walmsley. "Our team looks forward to building and supporting ASVs with a focus on mission success and returning our soldiers home safely."
The ASV is a 4X4 wheeled armored vehicle that offers significant crew protection through the employment of multiple layers of armor, defending against small arms fire, artillery projectile fragments, Improvised Explosive Devices (IEDs) and land mines. The ASV possesses superior mobility, agility, handling and ride quality through the utilization of a four-wheel independent suspension system.
The ASV has maintained exceptional operational readiness and combat availability rates over the life of the U.S. Army program as vehicles log more than 30,000 miles per year in combat operations. Textron Marine & Land Systems has achieved more than 56 consecutive months of on-time delivery to the U.S. Army on the ASV program.
The ASV family of vehicles performs a wide variety of missions including scout, infantry personnel carrier, reconnaissance, command and control and maintenance. U.S. Army ASV missions include operations with the Military Police, convoy protection, perimeter security, as well as Field Artillery Combat Observation and Lasing Teams (COLT) with the M1200 ASV configuration.
Textron
12.05.2010

Share...




Textron Systems Announces Plans to Acquire Robotics Innovator Howe & Howe Technologies
04.11.2018
Textron Systems Delivers First TAPV to the Canadian Army
30.08.2016
WFEL extends US Army contract with £30m upgrade deal
21.07.2016
Alcoa Awarded up to $50 M from US Army to Advance Combat Vehicles
04.03.2016
US Army Tank-automative & Armaments Command (TACOM)
Textron Systems Maui Operations
M1117 Guardian (Reconnaissance Vehicle)
Discuss