French DGA Orders 187 Small Armoured Vehicles
Category: Defence Industry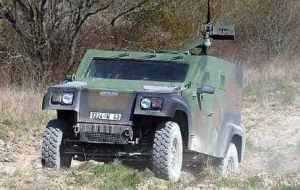 On 7 May 2010 the French Armament Procurement Agency (Direction generale de l`armement, DGA) ordered 187 small armoured vehicles (petits vehicules proteges, PVP) from Panhard General Defense.
This order is for the last lot from the contract for a total of 933 PVPs, signed on 7 September 2004. So far, 506 PVPs have been delivered to the French Army. The deliveries are scheduled to be completed in 2011.
The PVPs are manufactured at the two industrial facilities at Marolles-en-Hurepoix (Essonne) and Saint-Germain-Laval (Loire). The PVP programme comprises a total of approximately one million work hours for Panhard and its sub-suppliers. The initial delivery contract provided for the delivery of 200 PVPs per year starting in late 2007 through 2012. The acceleration of deliveries and orders, agreed within the framework of the economical revitalisation plan, has allowed increasing the production cycle to 300 PVP per year in 2009 and 2010.
The PVP is a state-of-the-art 4x4 vehicle, planned to equip the command posts of the artillery and engineering units, as well as some specific paratrooper, mountain infantry, logistical and reconnaissance units. Air-transportable, armoured and very mobile, it features a 7.62mm self-protection gun and can transport up to four people. The PVP has been deployed to the Lebanon in late 2009 and is being deployed to Afghanistan since February 2010.
DGA
12.05.2010

Share...




TEMPORARY COMPANY GROUPING EBMR MEETS ITS DELIVERY OBJECTIVES FOR 2019
14.01.2020
KMW and Nexter join forces on Main Ground Combat System
21.06.2018
MBDA and Milrem Robotics to Develop Anti-Tank UGV
18.06.2018
The Scarabee An Innovative Prototype
13.06.2018
Societe de Constructions Panhard et Levassor
Discuss