United Defense Receives Contract Modification worth $12.8 Million for Marine Corps Assault Amphibious Vehicles
Category: Contracts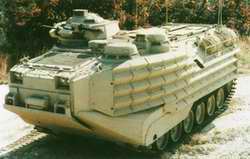 SANTA CLARA, Calif. -- United Defense Industries, Inc. United Defense Industries, Inc. has received a $12.8 million contract modification from the U.S. Marine Corps Systems Command to upgrade 56 Assault Amphibious Vehicles (AAV7) to the RAM/RS configuration to support Marine Corps units.
This program is a joint effort with the Marine Corps Logistics Command in Albany, Ga., under the direction of the Program Manager, Amphibious Assault Vehicle Systems, Marine Corps Systems Command, in Quantico, Va. Under this modification, United Defense will remanufacture government furnished AAVP7 hulls to the RAM/RS (Reliability, Availability and Maintainability/Rebuild to Standard) configuration.
Under the contract, machining and procurement of parts for the government furnished hulls will be done at United Defense`s facility located at the Marine Corps Logistics Base in Albany, Ga. Vehicles are being assembled by depot personnel. Work will be completed during 2006. The AAVP7 RAM/RS system provides superior mobility for transporting troops and cargo from ship to shore. The RAM/RS version was originally designed for the U.S. Marine Corps to include a more powerful turbocharged diesel engine and power train and a Bradley Combat System suspension, providing superior durability and maintainability.
United Defense
23.06.2005

Share...




CAESAR and Stryker MGS Gaining Share of The Self-Propelled Artillery Market
05.05.2007
Saft Awarded Contract for Next Generation Hybrid-Electric Military Vehicles
01.12.2006
Samsung Techwin K9 Thunder Continues to Drive The Self-Propelled Artillery Market
05.05.2006
BAE Systems Signs Co-operation Agreement With Turkish Defence Company For Wheeled Armoured Vehicles
07.10.2005
AAVP7A1 (Marines fighting vehicle)
Discuss