Textron Marine & Land Systems Awarded Contract Option for 73 Additional M1117 and M1200 Armored Vehicles
Category: Contracts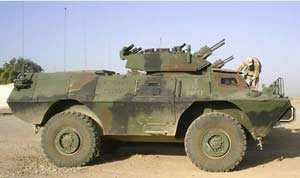 NEW ORLEANS -- Textron Marine & Land Systems, an operating unit of Textron Systems, a Textron Inc. company, today announced a firm-fixed-price contract award from the U.S. Army Tank-automotive and Armaments Command (TACOM) for additional M1117 Armored Security Vehicles (ASV) and M1200 Armored Knights.
The award, valued at $49,808,772, exercises options for 52 M1117 ASVs, 21 M1200 Armored Knights, and 12 special tool sets with Textron Marine & Land Systems. Work is to be performed in the New Orleans area, with an estimated completion date of February, 2012.
"The ASV provides the highest level of mobility and survivability to successfully carry out a wide range of combat mission roles for the U.S. Army in Iraq and Afghanistan," said Textron Marine & Land Systems General Manager Tom Walmsley. "Our team is continually working to build the best military vehicle possible to protect the warfighters serving our country."
The ASV is a 4X4 wheeled armored vehicle that offers significant crew protection through the employment of multiple layers of armor, defending against small arms fire, artillery projectile fragments, Improvised Explosive Devices (IEDs) and land mines. The ASV possesses superior mobility, agility, handling and ride quality through the utilization of a four-wheel independent suspension system.
The ASV has maintained exceptional operational readiness and combat availability rates over the life of the U.S. Army program as vehicles log more than 30,000 miles per year in combat operations. Textron Marine & Land Systems has achieved more than 58 consecutive months of on-time delivery to the U.S. Army on the ASV program, and has delivered more than 2,700 ASVs to the U.S. Army to-date.
The ASV family of vehicles performs a wide variety of missions including scout, infantry personnel carrier, reconnaissance, command and control and maintenance. U.S. Army ASV missions include operations with the Military Police, convoy protection, perimeter security, as well as Field Artillery Combat Observation and Lasing Teams (COLT) with the M1200 ASV configuration.
Textron
03.08.2010

Share...




Textron Systems Announces Plans to Acquire Robotics Innovator Howe & Howe Technologies
04.11.2018
Textron Systems Delivers First TAPV to the Canadian Army
30.08.2016
Navistar Displays Latest MaxxPro MRAP and Medium Tactical Vehicle
13.10.2015
Textron Systems Awarded Contract to Provide an Additional 55 COMMANDO™ Select Armored Vehicles to Afghan National Army
04.10.2015
Textron Systems Maui Operations
Iraqi Global Group General Trading
M1117 Guardian (Reconnaissance Vehicle)
Discuss