U.S. Marines Corps to Receive Vision Enhancement Systems for its Armored Combat Earthmover from DRS Defense Solutions for $18 Million
Category: Defence Industry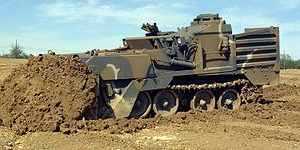 BETHESDA, MD -- DRS Defense Solutions announced it has received an order valued at $18 million to provide the U.S. Marine Corps with Vision Enhancement Systems (VES) for its M9 Armored Combat Earthmover (ACE).
DRS Sensor and Targeting Systems (S&TS), a DRS Defense Solutions company, received the new order for the systems from Marine Corps Systems Command (MARCORSYSCOM) located in Quantico, VA.
First deliveries are set to begin in November 2010 and are expected to continue through April 2012. S&TS had previously delivered five VES for the M9 ACE to MARCORSYSCOM for evaluation and vehicle integration. The units will be manufactured at S&TS in Cypress, CA
The Vision Enhancement System couples proven Driver's Vision Enhancer (DVE) technology with daylight television cameras to give full day/night situational awareness. This allows users to conduct their missions while remaining safely under armor.
The M9 Armored Combat Earthmover is a highly mobile armored vehicle that provides combat engineer support to front-line forces. Its tasks include eliminating enemy obstacles, maintenance/repair of roads and supply routes, and construction of fighting positions.
Bob Viviano, vice president and general manager, DRS Sensors and Targeting Systems, said: "We are dedicated to equipping our warfighters with sensor systems that provide situational awareness for enhanced mission success while reducing their exposure to enemy fire."
DRS Defense Solutions
24.08.2010

Share...




Rheinmetall books ˆ110 million-contract to extend the service life of the Marder infantry fighting vehicle for the Bundeswehr
21.01.2020
Rheinmetall modernizing Puma infantry fighting vehicle and other equipment for NATO spearhead VJTF 2023
25.07.2019
Textron Systems Announces Plans to Acquire Robotics Innovator Howe & Howe Technologies
04.11.2018
France-based SD4E introduced the sniper robot
10.07.2018
Night Vision Equipment company Inc (NVEC)
Selectron Enhanced Vision Systems (EVC)
Vision Technologies Kinetics, Inc.
Discuss