Oshkosh Defense to Bolster the U.S. Marine Corps` Heavy Fleet
Category: Defence Industry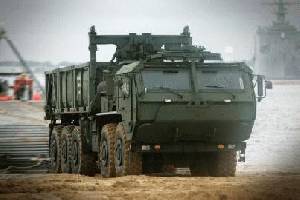 OSHKOSH, Wis. -- Oshkosh Defense, a division of Oshkosh Corporation, will supply the U.S. Marine Corps with more than 100 Logistics Vehicle System Replacement (LVSR) Cargo Variants and 120 enhanced protection kits following an order from the Marine Corps Systems Command (MARCORSYSCOM).
"The LVSR is an advanced tactical vehicle built for today's logistics missions, which often require Marines to travel off-road in harsh environments," said John Bryant, vice president and general manager of Marine Corps Programs for Oshkosh Defense. "When troops need to travel on rough terrain in combat zones, they need improved survivability, mobility and enhanced performance to help them accomplish their objectives – and the LVSR delivers those capabilities."
The LVSR is produced in three variants – cargo, wrecker and tractor – and features an on-road payload capacity of 22.5 tons and an off-road payload capacity of 16.5 tons. It is equipped with the Oshkosh Command Zone™ embedded diagnostics system to provide real-time performance feedback on vital vehicle information and uses the company's patented TAK-4® independent suspension system for off-road mobility in the most challenging environments. LVSRs have been operating in Afghanistan since September 2009.
Production of the vehicles is scheduled to begin in August 2011 and be completed in April 2012. This order has a value of nearly $50 million.
Sergyi Way
30.12.2010


www.army-guide.com
Share...




Oshkosh Defense Receives Order for 248 Joint Light Tactical Vehicles
02.07.2020
Germany awards 159 MUSD vehicle contract to GDELS
24.04.2020
Oshkosh Defense Receives $407.3 Million Order for Joint Light Tactical Vehicles
24.02.2020
BAE Systems` CV90 increases lethality by testing SPIKE LR anti-tank guided missile
14.01.2020
Kawasaki Heavy Industries, Ltd
Bharat Heavy Electricals Ltd. - BHEL
Kia Heavy Industries Corporation
Abdallah Al Faris Company for Heavy Industries
Ishikawajima-Harima Heavy Industries Co., Ltd.
Mitsubishi Heavy Industries Ltd (MHI)
Bharat Heavy Electricals Ltd. Industry Sector
U.S. Army Simulation, Trading and Simulation Command
Larsen & Toubro Limited, Heavy Engineering Division - L&T
HYUNDAI HEAVY INDUSTRIES CO., LTD.
DOOWON HEAVY INDUSTRIAL CO., LTD.
TONGIL HEAVY INDUSTRIES CO., LTD
TONGMYUNG HEAVY INDUSTRIES CO., LTD - THI
DOOSAN HEAVY INDUSTRIES & CONSTRUCTION CO., LTD.
HAN JIN HEAVY INDUSTRIES & CONSTRUCTION CO., LTD.
THE ASSOCIATION OF THE U.S. ARMY - AUSA
U.S. Army Armament Research, Development and Engineering Center (ARDEC)
Armored Vehicles & Heavy Equipment Factory (AVF)
Discuss