GPS Anti-Jam Technology revealed
Category: Future Technologies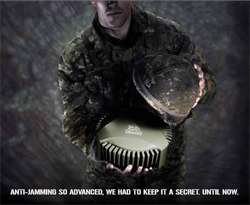 GAJT (GPS Anti-Jam Technology) optimizes battlefield performance by nullifying the effect of multiple GPS jammers.
QinetiQ and NovAtel Inc. have brought together their unique skills and technologies to launch GAJT (pronounced "Gadget"), the world's first single-enclosure GPS anti-jam system which is a stand-alone, rugged enclosure that mounts to the exterior of vehicles.
Intentional jamming and unintended interference of GPS can completely deny a position solution and timing over a wide area. GAJT is a seven element controlled reception pattern antenna (CRPA) that nulls jammers, ensuring GPS positioning capabilities are retained during combat, training or other vehicle-based missions.
As an externally mounted single-unit enclosure, no additional electronics are necessary inside the vehicle; only power and a single RF cable are required to connect to legacy GPS receivers. The simplicity of its design results in faster installation, minimal vehicle downtime and training, and makes the antenna easier to integrate into new platforms, or retrofit onto existing platforms or fleets and works with standard military and civil GPS receivers.
Cathy Kane, QinetiQ Managed Services Director of Technology Insertion said, "We are delighted to be partnering with NovAtel to bring this much-needed and exciting force protection product to market. I have been particularly impressed at the way the people from NovAtel and QinetiQ have brought their different skills together to form an effective team."
Michael Rittter, President and CEO of NovAtel stated, "GAJT is the first GPS anti-jam system that is small enough, and at a price point that makes sense to use on land-based military vehicles such as LAVs (light armoured vehicles)." Mr. Ritter added, "We are extremely pleased to have developed a game-changing product that will protect the positioning and blue force tracking of troops on the ground, and potentially save the lives of personnel who encounter jammers while in theatre."
GAJT is a commercial off-the-shelf (COTS) product, providing short order lead times and enabling quick deployment to the field. Manufactured in Canada, and incorporating Canadian and UK technology, GAJT only requires Canadian and UK export approval, which means exporting to authorized customers in foreign countries is greatly simplified.
NovAtel will accept orders for GAJT from authorized customers in the third quarter of 2011. Additional information on GAJT can be found at www.novatel.com/GAJT.
QinetiQ
09.06.2011

Share...




QinetiQ and Pratt Miller Deliver First Robotic Combat Vehicle - Light to U.S. Army
02.02.2021
BAE Systems Teams with QinetiQ to Pursue Electric Drive on Combat Vehicles
04.06.2017
Otokar showcases 15 vehicles at IDEF 2017
09.05.2017
QNA Partners with Persistent Systems to Integrate MPU5 Radios into Family of UGV
12.01.2017
Discuss