ACMAT unveils a new generation of armoured vehicles: the Bastion PATSAS
Category: Defence Industry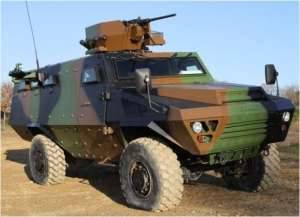 Open-shell, V-shaped and armoured 4WD, this tactical off-roader is designed for deep patrol fast attack and close combat operations.
Based on 60 years of military experience in the rugged and hostile environment of Africa and Middle East, the new BASTION PATSAS is specifically designed to meet the high levels of mobility, armour protection, payload and survivability in the most extreme driving conditions.
Open-top, this special feature allows the deployment of heavy weapon and missile platforms, the fitting of reconnaissance, surveillance and target acquisition systems as well as performing check-point mission and any special operations. The features of the BASTION PATSAS combine the famous rigid all-wheeled steel chassis and field-proven technologies to challenge all the theatres of operations.
Close combat operations:
Ballistic protection up to level 3:
Standard NATO STANAG 4569.
Anti-mine protection level 2:
Standard NATO STANAG 4569, Run Flat tyres.
Wide mobility:
1000-km cruising range without refueling
Extreme terrain and survivability
Full time all-wheel drive
Extreme environment -32°C to +55°C
Driving force:
Gear box 5-speed auto or 6-speed manual
Central Tyre Inflation System
The vehicle is also available in the version Armoured Personnel Carrier.
With the BASTION PATSAS, the ALTV Open cab series Torpedo and the VLRA Commando, ACMAT provides a unique and comprehensive solution to operating autonomously with a maximum degree of tactical mobility and offensive power to Special Operations Forces units.
ACMAT
21.02.2012

Share...




RENAULT TRUCKS Defense offers a new line of vehicles to internal security forces
22.11.2017
Renault Trucks Defense To Exhibit At The SOFINS Show
13.04.2015
Fifty-one new Foxhound vehicles for the front line
25.11.2012
Qatar`s Internal Security Forces Order 27 Vehicles From Renault Trucks Defense
12.12.2011
ACMAT - Ateliers de Construction Mecanique de l'Atlantique
9K116-1 Bastion / AT-10 (Anti-tank guided missile launcher)
ALTV Torpedo (Tactical vehicle)
BASTION PATSAS (Tactical vehicle)
BASTION APC (Wheeled armoured personnel carrier)
BASTION HM (Wheeled armoured personnel carrier)
BASTION PC (Control and command vehicle)
BASTION SAN (Ambulance vehicle)
Discuss