Patria Presents AMV 6X6 Vehicle In Poland
Category: Defence Industry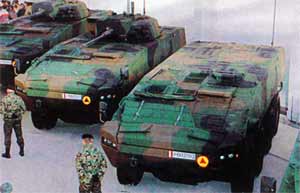 A new 6x6 version of Patria's well-known AMV vehicle is presented today in MSPO Exhibition in Poland. Patria AMV has raised significant international interest since it was launched in 2001.
The new concept is based – among other things – on modularity. The Polish Defence Forces ordered 690 Patria AMVs in 2003 including 32 light and extremely mobile 6x6 vehicles. The Polish customer has already received more than 40 vehicles, a total of 90 vehicles will be delivered this year.
Patria has been happy with the procedure of the AMV project known as KTO in Poland. Up to now Patria has fulfilled, and even in some cases exceeded, its offset obligations contractually and in time. Deliveries as well as the presentation of the new 6x6 version have taken place according to schedule. Employees of the Polish WZMS company have been trained in Finland as agreed and the necessary technology for the final assembly of AMVs and manufacture of certain components has been transferred to Poland. Patria has also established subsidiaries in Poland thus being able to serve the Polish customer even better and support the Polish industry in the manufacturing start-up phase.
Recently Patria AMV has successfully passed tests in the Czech Republic, South Africa, Brazil and Kuwait. Patria has received RFQ's e.g. from the Czech Republic, Croatia and Belgium, which are expected to make their decisions even during this year.
Patria AMV offers high protection, modularity and air transportability, though meeting even the most stringent procurement criteria for today's defence forces, including NATO compatibility. AMV is a European solution with unquestioned logistic benefits to the user, due to the maximised use of standard COTS products and standard military components. Currently, Patria AMV is not only a totally new concept but also the only fourth generation armoured modular vehicle already in serial production on the market.
Patria is an internationally operating Aerospace and Defence Group. Patria's key business areas are armoured wheeled vehicles, mortar systems, helicopters and aircraft, and life cycle support. Patria delivers internationally competitive solutions to global markets based on own specialist know-how and partnerships. Patria's owners are the Finnish State and EADS, European Aeronautic Defence and Space Company.
Patria
07.09.2005

Share...




MBDA SHOWCASES TANK DESTROYER VEHICLE WITH PGZ AT MSPO 2019
12.09.2019
Robotic Warfare Systems Will Bring Disruption to the Battlefield, Milrem Robotics' Study Finds
25.04.2019
Milrem Signs Contract for the Latvian BV206 Maintenance
25.04.2019
Eurosatory 2018: Patria 6X6 - Multifunctional transport capacity far into the future
12.06.2018
Rosomak Spolka Akcyjna w Siemianowicach Slaskich
AMV / Rosomak (Wheeled armoured personnel carrier)
Rosomak WEM (Ambulance vehicle)
Rosomak M1M (Wheeled armoured personnel carrier)
Rosomak (Fire support vehicle)
Rosomak (Self-propelled antitank guided missile system)
Rosomak WD (Control and command vehicle)
Discuss