TenCate Advanced Armour supplies armour to QinetiQ for another 100 Foxhounds
Category: Defence Industry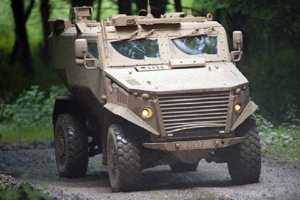 TenCate Advanced Armour has been selected by QinetiQ as the supplier of armour for the Foxhound LPPV 4x4 military vehicle. Initial production of 200 vehicles has been followed by an order of a further 100 vehicles to be delivered by General Dynamics European Land Systems, Force Protection Europe, to the UK Ministry of Defence. No financial details will be published.
The Foxhound has been designed to provide unprecedented levels of blast protection for a vehicle of its size, and will be able to carry up to six military people. It provides the highest levels of survivability available anywhere in the world for this size and class of vehicle by protecting both the occupants and key automotive components, providing enhanced mobility and blast survivability to troops operating in urban environments.
Mr. Ian Dunbavand, Commercial Director Military Sales, TenCate Advanced Armour states: "For TenCate, this order underlines our dedicated capability to supply and support the prime contractors as a high-capacity, high-quality supplier. We understand the importance of quality and on-time deliveries, and we are pleased to be selected by QinetiQ for this vehicle, thereby providing protection for British troops in Afghanistan".
TenCate has worked closely with QinetiQ to ensure that the lightweight, high-performance yet cost effective armour design generated by QinetiQ is manufactured to the highest standards and hence represents value for money for this highly significant MoD programme. TenCate Advanced Armour is a global provider of customised, lightweight ballistic protection solutions for the complete range of requirements, from personal protection through all vehicle, helicopter and aircraft applications up to and including principal warships.
TenCate
09.07.2012

Share...




QinetiQ and Pratt Miller Deliver First Robotic Combat Vehicle - Light to U.S. Army
02.02.2021
General Dynamics Land Systems–UK showcases adaptable Foxhound vehicle at DSEI 2019
23.09.2019
BAE Systems Teams with QinetiQ to Pursue Electric Drive on Combat Vehicles
04.06.2017
QNA Partners with Persistent Systems to Integrate MPU5 Radios into Family of UGV
12.01.2017
TenCate Advanced Composites bv
TenCate Advanced Armour France S.A.S.
TenCate Advanced Armour Danmark A/S
Ocelot LPPV/Foxhound (Mine protected carrier)
Discuss