UVZ displaying fighting vehicles in RSA
Category: Exhibitions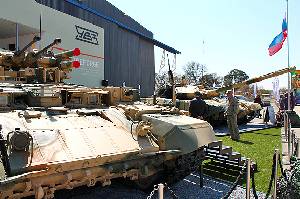 Research and Production Corporation «URALVAGONZAVOD» for the first time has participated in the largest exhibition of air, sea and land capabilities on the African continent «Africa Aerospace & Defence 2012».
The exhibition opened in RSA on September 19. UVZ presents two full-sized armoured vehicles.
Experts expect it to become the major event of the exhibition. «Africa Aerospace & Defence 2012» exhibition has seen over 100 different companies from world's leading countries such as Russia, Great Britain, France, Germany and USA participate. For the first time Russia will display several full-sized vehicles: Modernized T-72 Tank and Tank Support Fighting Vehicle. UVZ displays the armoured fighting vehicles at its open-air stand.
Guests and participants of the exhibition have given them high marks for the machines' unique features such as high performance, reasonable price and development potential. «Terminator» is a eye-catching vehicle that got its unofficial name for its gun power. It is a multipurpose tank and infantry fire support vehicle that can operate in any combat mode, complicated geographic area and light conditions.
Powerful multi-channel armament, targeting assets and all-round crew protection combined in one machine make it stand out compared to similar foreign vehicles.
UVZ
25.09.2012

Share...




ARMATA MBT - problems 2020
24.12.2020
Problems of Russian land military vehicles with diesel engines
24.12.2020
Problems of Russian Vacuum APFSDS-T projectile
25.01.2019
BMPT Terminator will receive a remote blasting ammunition
07.06.2018
JSC Research and production corporation UralVagonZavod
BMPT Ramka/Terminator (Fire support vehicle)
BMPT-72 Terminator 2 (Fire support vehicle)
Discuss