Commanders and Officers in the Royal Netherlands Army will Train in a Variety of Fighting Scenarios with the Help of Elbit Systems` New Command and Staff Trainer (CST)
Category: Training And Simulators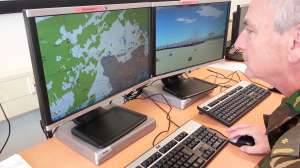 Elbit Systems Ltd. announced today that it has supplied an advanced training and simulation solution for the Royal Netherlands Army (RNLA). The system enables all levels of staff training with support for joint NATO missions. RNLA operational units will use the system during 2013 for command and staff exercises. In addition, the trainer will facilitate concept development and experimentation (CD&E) as well as mission rehearsal events.
The trainer is capable for training battalion and brigade and higher levels headquarters in a full spectrum of operations, including military missions training and operations other than war, combined with the civilian sector operations.
The CST system is designed for training battalion, brigade and higher levels, encompassing a wide range of fighting scenarios - both low and high intensity conflicts, as well as other non-military settings, such as operations other than war (OOTW). Furthermore, the CST enables training for civil-military cooperation (CIMIC) – such as military forces operating with municipal authorities, police and medical organizations such as the Red Cross.
Situated at operational headquarters, the CST's advanced high level architecture makes it suitable for the specific needs of every trainee and combines full training with qualitative debriefing. The simulation integrates with command, control and communications systems using Battle Management Language (BML) protocols. With the help of a user friendly interface and advanced artificial intelligence, the trainer also enables minimal use of personnel and thus lowers training costs as well.
Elbit Systems operates across the entire spectrum of military training and simulation systems, in Israel and throughout the world, utilizing its advanced technological capabilities, particularly in the area of software for complex project systems, as well as in the upgrade of military platforms.
About Elbit Systems
Elbit Systems Ltd. is an international defense electronics company engaged in a wide range of programs throughout the world. The Company, which includes Elbit Systems and its subsidiaries, operates in the areas of aerospace, land and naval systems, command, control, communications, computers, intelligence surveillance and reconnaissance ("C4ISR"), unmanned aircraft systems ("UAS"), advanced electro-optics, electro-optic space systems, EW suites, airborne warning systems, ELINT systems, data links and military communications systems and radios. The Company also focuses on the upgrading of existing military platforms, developing new technologies for defense, homeland security and commercial aviation applications and providing a range of support services.
Elbit Systems
21.11.2012

Share...




General Dynamics European Land Systems presents a new variant of PIRANHA IFV at the HEMUS Exhibition 2018
04.06.2018
Elbit Systems of Australia Concludes Successful Delivery of Thermal Weapon Sights to ADF
14.05.2018
Australian Minister for Defence Industry Publicly Announced Elbit Systems' Award of Additional BMS for the ADF
28.11.2017
Rheinmetall selects Queensland for Military Vehicle Centre of Excellence
15.07.2017
Discuss