U.S. Army Awards General Dynamics $31 Million in Combat Vehicle-Related Contracts
Category: Contracts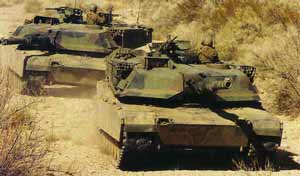 STERLING HEIGHTS, Mich. - The U.S. Army TACOM Lifecycle Management Command has awarded General Dynamics Land Systems, a business unit of General Dynamics, two contracts valued at $31.4 million for work related to the Abrams tank system and the Stryker combat vehicle.
The first award was a $25 million modification to an existing contract for Abrams tank systems technical support (STS). STS funds engineering studies and investigations on Abrams tanks with the purpose of identifying improvements and changing obsolete parts, while keeping Abrams tanks current to their base configuration. The STS program's objective is to maintain Abrams tanks at high operational readiness rates. Work will be performed here by existing General Dynamics employees and is expected to be complete by July 30, 2006. This modification is part of a contract initially awarded in November 2001 and brings the cumulative value to $710 million.
General Dynamics Land Systems was also awarded a $6.4 million contract modification for field service repair support to Stryker Brigade Combat Teams. Work will be performed by existing General Dynamics employees. Activities include parts procurement, labor and physical repair and should be complete by Sept. 30, 2006.
GDLS
29.09.2005

Share...




Rheinmetall to Feature Next Generation 130mm Tank Gun at AUSA Global
04.11.2019
General Dynamics Land Systems–UK showcases adaptable Foxhound vehicle at DSEI 2019
23.09.2019
General Dynamics Receives Delivery Order to Upgrade 100 Abrams Main Battle Tanks
31.07.2018
Kongsberg Signs Orders to the CROWS Program Valued at 330 MNOK
05.12.2017
General Dynamics Land Systems - GDLS
General Dynamics Land Systems - GDLS - Canada
M1A2 Abrams (Main battle tank)
M1A1 Abrams (Main battle tank)
M1A1 Abrams (Main battle tank)
M1A2 Abrams (Modernization of the vehicle)
M1A2 SEP Abrams (Modernization of the vehicle)
M1A1 AIM Abrams (Modernization of the vehicle)
M1A1 Abrams (Armoured vehicle-launched bridge)
M1A2 TUSK Abrams (Modernization of the vehicle)
M1A1-SA Abrams (Modernization of the vehicle)
M1 Abrams Panther II (Mine clearing vehicle)
Discuss