Colombian Army Acquires 28 Additional COMMANDO Armored Personnel Carriers from Textron Marine & Land Systems
Category: Contracts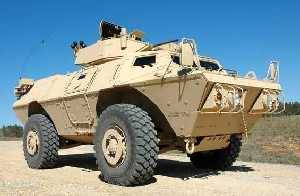 New Orleans, LA -- Textron Marine & Land Systems (TM&LS), an operating unit of Textron Systems, a Textron Inc. company, announced today a $31.6 million contract award from the U.S. Army Tank-Automotive and Armaments Command (TACOM) to provide 28 COMMANDO™ Advanced Armored Personnel Carriers (APCs), with 40mm/.50 cal remote turrets, to the Colombian Army (COLAR). Initial APC deliveries to the U.S. Army, for shipping to Colombia, are expected to begin in November, with all vehicles scheduled to be completed and transferred by April 2014.
The contract also includes repair services on two damaged Armored Personnel Carriers in the COLAR's inventory, which consists of 39 COMMANDO Advanced APCs in operation with its Armored Cavalry units. These repairs will coincide with vehicle support service work on COLAR APCs awarded to TM&LS earlier this year.
Since fielding its APCs in May 2010, the COLAR has employed them extensively while combating internal revolutionary forces in Colombia. These vehicles have provided the mobility, protection and firepower needed to meet all COLAR tactical armored vehicle requirements.
"Our Colombian Army customer values the performance, operator protection and reliability they have experienced with our COMMANDO APCs during more than three years of demanding operations," said Textron Marine & Land Systems Senior Vice President and General Manager Tom Walmsley. "We're pleased to be growing this relationship and providing the Colombian Army with this important asset for its Cavalry units."
The COMMANDO Advanced APC is an extended version of the Armored Security Vehicle, combat proven by the U.S. Army and other militaries in locations including Afghanistan and Iraq for more than 10 years. The APC's additional two feet in length and six inches in internal height allow greater troop carrying capacity. These vehicles offer excellent on-road and off-road mobility, enabling them to operate in urban, jungle, desert and mountainous terrain. Crew protection is reinforced with a V-shaped hull bottom and 360-degree protection from direct fire.
Rigorously tested and proven in the toughest environments, the COMMANDO™ family of vehicles offers a range of protection options, unmatched on-road/off-road mobility and ample firepower. TM&LS produces four lines of COMMANDO four-wheeled vehicles - COMMANDO Utility, COMMANDO Advanced, COMMANDO Select and COMMANDO Elite.
As an end-to-end armored vehicle provider, TM&LS offers customers a wide range of COMMANDO products and services. Within the COMMANDO family of vehicle lines, TM&LS has recently developed an enhanced recapitalization solution for HMMWVs, a 4x4 mortar vehicle, and command and control integration. Coordinated logistics support ensures proper fielding, training, maintenance and related services throughout each vehicle's life cycle.
Textron
25.08.2013

Share...




Textron Systems Announces Plans to Acquire Robotics Innovator Howe & Howe Technologies
04.11.2018
Textron Systems Delivers First TAPV to the Canadian Army
30.08.2016
Textron Systems Awarded Contract to Provide an Additional 55 COMMANDO™ Select Armored Vehicles to Afghan National Army
04.10.2015
Renault Trucks Defense To Exhibit At The SOFINS Show
13.04.2015
Textron Systems Maui Operations
LAV-150 Commando (Reconnaissance Vehicle)
VLRA TDN-TDE Commando (Patrol Vehicle)
COMMANDO Advanced (Reconnaissance Vehicle)
COMMANDO Select (Tactical vehicle)
COMMANDO Elite (Tactical vehicle)
Discuss