ROBOTEAM Unveils New Configuration of its Micro Tactical Ground Robot (MTGR) Designed for Harsh Field Conditions
Category: Robots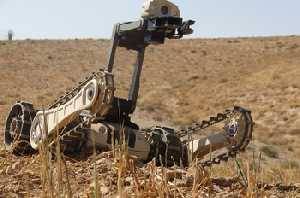 ROBOTEAM will unveil its new configuration of the Micro Tactical Ground Robot - MTGR - designed for harsh field conditions, at AUSA 2013.
The new configuration of the MTGR was specially developed for harsh field conditions. Designed for intelligence gathering (ISR), EOD missions, and public safety day-to-day activities, the robust MTGR is a 16-lb unmanned ground vehicle that is highly maneuverable and is the lightest available on the market in its category. Carried by an individual soldier, the MTGR climbs stairs, operates in rough terrain, transmits 360⁰ video in real time, uses a US Military standard battery, and has a secured MANET Data Link.
According to Yosi Wolf, Co-CEO of ROBOTEAM, "We continuously invest resources in order to create the best possible and highest quality solutions in the field, while maintaining a reasonable level of affordability. Our robotic solutions, which are combined with the most advanced command and control systems, are preferred by our customers."
ROBOTEAM
16.10.2013

Share...




MTGR (Robot, Unmanned Vehicle)
Discuss