Oshkosh Resumes Work on Joint Light Tactical Vehicle
Category: Defence Industry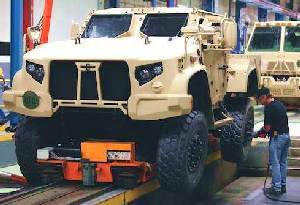 The U.S. Army Tank-automotive and Armaments Command (TACOM) Life Cycle Management Command (LCMC) has directed Oshkosh Defense, LLC, an Oshkosh Corporation (NYSE: OSK) company, to resume work on the Joint Light Tactical Vehicle (JLTV) production contract. The JLTV program fills a critical capability gap for the U.S. Army and Marine Corps by replacing a large portion of the legacy HMMWV fleet with a light vehicle that provides unprecedented protection, off-road mobility and transportability.
"We are pleased that the JLTV production contract, awarded to Oshkosh in August, is now moving forward to deliver the world's most capable light tactical vehicle," said U.S. Army Major General (Retired) John M. Urias, executive vice president of Oshkosh Corporation and president of Oshkosh Defense. "Our JLTV is designed to safely transport Soldiers and Marines as they perform their missions 'outside the wire' – providing unprecedented off-road speed and mobility on future battlefields that could be virtually anywhere in the world."
The U.S. Government Accountability Office (GAO) dismissed Lockheed Martin's protest earlier today based on Lockheed's notice that it intends to file a protest in the U.S. Court of Federal Claims. Shortly thereafter, the U.S. Army lifted the stop work order and instructed Oshkosh to resume performance of the JLTV contract. According to the JLTV production contract, Oshkosh will begin delivering vehicles within the next 10 months, reaching an expected total volume of nearly 17,000 vehicles, as well as kits and sustainment services over an eight-year period.
"The Army conducted a thorough, methodical procurement including exhaustive testing and evaluation to ensure our troops get the best vehicle," said Urias. "The Oshkosh team and our employees will immediately resume work to deliver JLTVs to our Soldiers and Marines.
"The JLTV program fills a critical gap in the U.S. military's current tactical vehicle line-up," said Urias. "The Oshkosh JLTV will give our troops new levels of payload, performance and protection in a platform that was engineered to evolve as new technologies emerge and our adversaries' tactics change."
In designing its JLTV, Oshkosh leveraged its extensive experience producing and sustaining more than 150,000 heavy, medium and protected MRAP vehicles for the U.S. and its allies. The JLTV Family of Vehicles is comprised of two seat and four seat variants, as well as a companion trailer (JLTV-T). The two seat variant has one base vehicle platform, the Utility (JLTV-UTL). The four seat variant has two base vehicle platforms, the General Purpose (JLTV-GP) and the Close Combat Weapons Carrier (JLTV-CCWC).
Your company's press release on ASDNews and to thousands of other journalists and editors? Use our ASDWire press release distribution service.
Sergyi Way
17.12.2015


www.army-guide.com
Share...




Oshkosh Defense Receives Order for 248 Joint Light Tactical Vehicles
02.07.2020
Oshkosh Defense Receives $407.3 Million Order for Joint Light Tactical Vehicles
24.02.2020
Oshkosh Defense Exhibits JLTV Firepower at IDEX 2019
24.02.2019
Oshkosh FMTV A2 Makes Debut at Ausa 2018, Multiple JLTVS Command the Floor
14.10.2018
L-ATV/JLTV (Mine protected carrier)
Discuss