Oshkosh Announces $243 M for Next Generation Light Tactical Vehicles
Category: Defence Industry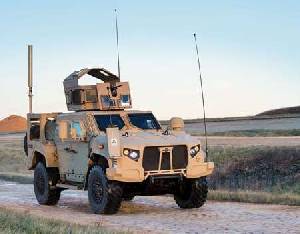 Oshkosh Defense, LLC, an Oshkosh Corporation company, announced today that the U.S. Army has placed an order for the Joint Light Tactical Vehicle (JLTV) program including 657 vehicles, 2,977 installed kits and related support. The order, which will serve both the U.S. Army and Marine Corps, is valued at more than $243 million.
"The JLTV program is providing our Soldiers and Marines with the world's most capable light tactical vehicle," said Wilson R. Jones, Oshkosh Corporation president and chief executive officer. "The Oshkosh JLTV will be the platform our troops depend on to keep them safe as they perform future military operations outside-the-wire."
The JLTV program remains a top priority for the Department of Defense, filling a critical capability gap for the U.S. Army and Marine Corps by replacing a large portion of the legacy uparmored HMMWV fleet with a modern light protected vehicle. The JLTV provides unprecedented protection and off-road mobility, as well as transportability via air, land and sea. The JLTV production contract calls for Oshkosh to deliver a total of nearly 17,000 vehicles, as well as kits and services over an eight-year period with first vehicle delivery in October 2016. The vehicles, trailers and installed kits for this order will be delivered by first quarter FY18.
Oshkosh Defense
26.03.2016

Share...




Oshkosh Defense Receives Order for 248 Joint Light Tactical Vehicles
02.07.2020
Oshkosh Defense Receives $407.3 Million Order for Joint Light Tactical Vehicles
24.02.2020
Oshkosh Defense Exhibits JLTV Firepower at IDEX 2019
24.02.2019
Oshkosh FMTV A2 Makes Debut at Ausa 2018, Multiple JLTVS Command the Floor
14.10.2018
L-ATV/JLTV (Mine protected carrier)
Discuss