OSHKOSH DEFENSE DISPLAYS THE NEXT GENERATION OF LIGHT VEHICLES WITH UNMATCHED MOBILITY AND TRANSPORTABILITY
Category: Exhibitions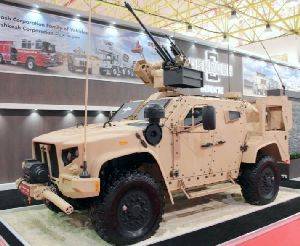 OSHKOSH, Wis. -- Oshkosh Defense, LLC, an Oshkosh Corporation company, will be displaying next-generation mobility and transportability with the Oshkosh Defense Joint Light Tactical Vehicle (JLTV) at the Dubai Airshow, November 12-16, 2017 at the Dubai World Central in Dubai, United Arab Emirates.
Oshkosh Defense offers a full range of cutting-edge military, security and airport fire fighting vehicles to serve customers throughout the Middle East Region, including the highly transportable Joint Light Tactical Vehicle (JLTV).
"Allied forces around the globe demand their military vehicles have the mobility, protection, and transportability to serve a full range of mission capabilities," said George Mansfield, Vice President and General Manager, International at Oshkosh Defense. "The Oshkosh JLTV combines battle-proven automotive technologies, Mine Resistant Ambush Protected (MRAP)-levels of protection, and extreme off-road mobility in a light-weight, highly-transportable package. The JLTV offers armed forces a technological leap in capabilities that other light vehicles in the industry simply cannot match."
Oshkosh will display a General Purpose variant of the JLTV, equipped with a dual weapon R400 S Remote Weapon System from EOS equipped with an Orbital ATK XM914 and a M240 machine gun.
The JLTV family of vehicles is equipped with the TAK-4i™ intelligent independent suspension system, which is the next-generation of Oshkosh's advanced TAK-4® independent suspension system. The TAK-4i system allows the JLTV to deliver superior ride quality at speeds 70 percent faster than today's top-performing tactical wheeled vehicles. Additionally, the TAK-4i independent suspension system can be raised and lowered using interior operator controls to meet sea, air and land transportability requirements. The JLTV can be air transported internally by a C-130, C-5, and C-17 or externally by CH-47 and CH-53.
Under the U.S. JLTV contract, Oshkosh will produce and deliver up to 17,000 JLTVs for the U.S. Army and Marine Corps. The JLTV program is scheduled to achieve full rate production authorization in Fiscal Year 2019 (FY19), at which time the vehicle would be available for foreign military sale (FMS) deliveries.
Oshkosh Defense leadership will be available to discuss the company's full portfolio, including the JLTV, in the U.S Pavilion at the Dubai Airshow in booth #1588.
Oshkosh Defense
13.12.2017

Share...




Oshkosh Defense Receives Order for 248 Joint Light Tactical Vehicles
02.07.2020
Oshkosh Defense Receives $407.3 Million Order for Joint Light Tactical Vehicles
24.02.2020
Oshkosh Defense Exhibits JLTV Firepower at IDEX 2019
24.02.2019
Oshkosh FMTV A2 Makes Debut at Ausa 2018, Multiple JLTVS Command the Floor
14.10.2018
L-ATV/JLTV (Mine protected carrier)
Discuss