The Finnish army is testing a new MiSu armored vehicle
Category: Defence Industry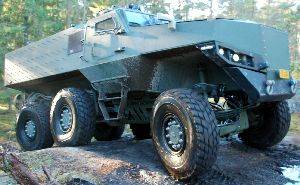 The Finnish Army has purchased four MiSu armored vehicles for field testing. The cost of the purchase is 4 million euros.
The developer and manufacturer of the vehicle is the Finnish company Protolab Oy. MiSu belongs to the class of MRAP and is officially called PMPV 6x6 (Protected Multipurpose Vehicle). It has protection against small arms, fragments and mines, but it is lighter than armored personnel carriers manufactured by Patria and can be registered for use on public roads.
The Command for the logistics of the Finnish Defense Forces was received decision to purchase on December 12, 2017.
Four PMPV 6x6 vehicles will be tested by the Finnish Defense Forces during the 2018-2020 years. In the case of positive test results, the PMPV 6x6 will be adopted by the Finnish Defense Forces.
PMPV 6x6 MiSu project was launched in 2009, it was attended by SSAB and Lappeenranta University of Technology. The prototype has already passed the first test run for 800 km. Additional tests were conducted in Finland in the winter of 2015. The vehicle is based on the specifications contained in the requirements of the Finnish and Swedish Defense Ministries under the FIMECC BSA program.
The PMPV 6x6 Misu design provides a high level of protection against mines and improvised explosive devices.
The PMPV is robust, but has incredibly mobility and lightweight. It can carry a crew or up to 10,000 kg payload both on roads and off-road conditions.
For vehicle protection used heavy-duty armor steel, developed by SSAB. Steel structures designed for protection were developed in cooperation with the Lappeenranta University of Technology.
"We noticed that there is no simple, but very protected solution. Modern military vehicles are complex and vulnerable. Destroying one small component can stop an entire expensive car," says Jukka Kemppainen, Chairman of the board of Protolab Oy, about the prehistory of PMPV.
In PMPV protection, multi-purpose use and cost-effectiveness were the main design drivers. PMPV is mainly created using standard commercial truck units that are easy to repair or replace anywhere. Commercial components have been used before, for example, in Afghanistan. Thus, it was tested under extreme conditions.
Sergyi Way
15.12.2017


www.army-guide.com
Share...




PMPV 6x6 MiSu (Mine protected carrier)
Discuss