In Russia will be tested the Nerehta combat robot
Category: Robots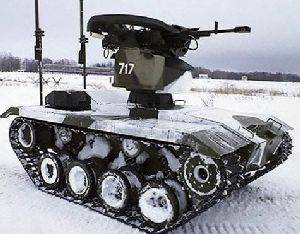 Tests of the Nerehta Armed Unmanned Ground Vehicle (AUGV) in winter conditions will be held in the city of Kovrov in the Vladimir region of Russia, the Department of Information and Mass Communications of the Ministry of Defense of Russia reports.
In the 467th inter-service district training center of the Russian Army during the tactical training with motorized infantry units, military tests will be conducted in the winter conditions of the Nerekhta AUGV with the purpose of determining the location of the AUGVs in the structure of the ground forces in the conduct of the combined arms.
The Ministry of Defense noted that to test the combat qualities of the AUGV, a special route was prepared on the range, which will test the robot's capabilities in the mobility and overcoming obstacles, and also test the Nerehta's armament.
According to open sources, the Nerekhta AUGV was created as an universal transport platform for the lgistic and work for 14 other specialties. Depending on the installed systems, the robot can patrol the terrain, provide reconnaissance, locate the enemy's artillery positions and evacuation of the wounded. Nerekhta is equipped with an unmanned helicopter and operates in the information network of the company.
Three special payload were developed for the platform: weapon, transport and artillery reconnaissance. The weapon station in various versions is equipped with a 12.7-mm Kord machine gun or 7.62-mm Kalashnikov machine gun, and can also be equipped with an AG-30M automatic grenade launcher.
The Nerehta AUGV was created by the Degtyaryov plant together with the Foundation for Advanced Studies of the Russian Federation.
The payload of the robot reaches 700 kg. For moving, electric motors mounted on a tracked platform. Remote control the robot can be from the vehicle at distances of up to 20 kilometers, and if used mast, or run from a natural elevation, the distance can be significantly increased.
A sample of the robot was first demonstrated at the exhibition of the Russian Defense Ministry in 2016.
Sergyi Way
19.12.2017


www.army-guide.com
Share...




The Nerehta Combat Unmanned Ground Vehicle is ready to be adopted by the Russian army
04.07.2018
Nerehta (Robot, Unmanned Vehicle)
Discuss