OSHKOSH DEFENSE AWARDED $40 MILLION FROM U.S. ARMY FOR RECAPITALIZATION OF THE ARMY RESERVES HEAVY VEHICLE FLEET
Category: Defence Industry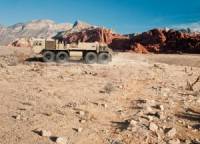 OSHKOSH, Wis. -- Oshkosh Defense, LLC, an Oshkosh Corporation (NYSE: OSK) company, announces today that it has been awarded a $40 million delivery order from the U.S. Army Tank-Automotive and Armaments Command (TACOM) to recapitalize vehicles from the U.S. Army Reserves Family of Heavy Tactical Vehicles (FHTV) fleet. Oshkosh will bring the Army's fleet of Heavy Expanded Mobility Tactical Trucks (HEMTT) to their latest model configuration and the same zero-mile, zero-hour condition as new production vehicles.
Overall, the award is valued at more than $40 million for the recapitalization and production of over 90 units. All work performed under the contract will be completed in Oshkosh, Wisconsin, with deliveries beginning in Fiscal Year 2019.
"Our recapitalization services offer significant cost savings to the Army Reserves by returning vintage vehicles to current operational readiness with the same performance and life cycle cost advantages of a new vehicle," said Pat Williams, Oshkosh Defense vice president and general manager of Army and Marine Corps programs. "Recapitalized vehicles are assembled on the same production line as new vehicles, and put through the same extensive performance tests and inspection procedures as new vehicles. As the Original Equipment Manufacturer (OEM), Oshkosh can modernize these vehicles to the latest configuration and quickly return them to operations."
The U.S. Army's Heavy Vehicle Fleet
With a 13-ton payload and multiple variants for a wide range of operations, the HEMTT is the backbone of the Army's logistics fleet. Oshkosh's latest configuration, the HEMTT A4, brings significant improvements in power, maintenance and safety to the battlefield, traversing even the most challenging environments easier and more efficiently. The latest configurations of FHTV trucks also include air-conditioned and armor-ready cabs, electrical upgrades, and anti-lock braking to keep soldiers safe.
Oshkosh Defensed
28.12.2017

Share...




Oshkosh Defense Receives Order for 248 Joint Light Tactical Vehicles
02.07.2020
Oshkosh Defense Receives $407.3 Million Order for Joint Light Tactical Vehicles
24.02.2020
Oshkosh Defense Exhibits JLTV Firepower at IDEX 2019
24.02.2019
Oshkosh FMTV A2 Makes Debut at Ausa 2018, Multiple JLTVS Command the Floor
14.10.2018
Discuss