U.S. Army Places $106 Million Order For 416 Joint Light Tactical Vehicles
Category: Defence Industry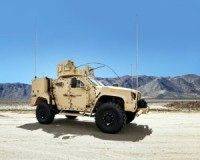 OSHKOSH, Wis. -- Oshkosh Defense, LLC, an Oshkosh Corporation company, announced today that the U.S. Army has placed a $106 million order for 416 Joint Light Tactical Vehicles (JLTV) and associated installed and packaged kits. This is the eighth order for JLTVs since the contract was awarded in August 2015.
"The JLTV program, currently in Low Rate Initial Production (LRIP), remains a top priority as we continue testing in support of a Full Rate Production decision in Fiscal Year 2019 (FY19)," said George Mansfield, Vice President and General Manager of Joint Programs at Oshkosh Defense. "Working closely with our government customer, we have completed Reliability Qualification Testing, accumulating over 100,000 miles, and have exceeded reliability requirements."
The JLTV program expects the first Army unit equipped by mid-FY19 and both the Army and Marine Corps to achieve Initial Operating Capability (IOC) in early FY20.
Oshkosh
08.02.2018

Share...




Oshkosh Defense Receives Order for 248 Joint Light Tactical Vehicles
02.07.2020
Oshkosh Defense Receives $407.3 Million Order for Joint Light Tactical Vehicles
24.02.2020
Oshkosh Defense Exhibits JLTV Firepower at IDEX 2019
24.02.2019
Oshkosh FMTV A2 Makes Debut at Ausa 2018, Multiple JLTVS Command the Floor
14.10.2018
L-ATV/JLTV (Mine protected carrier)
Discuss