Metal Storm wins US funding for munitions development
Category: Defence Industry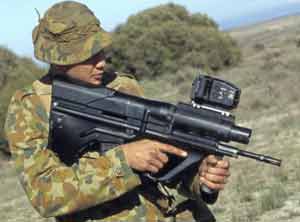 Metal Storm Limited today announced that its subsidiary Metal Storm, Inc had been awarded a two year contract worth approximately A$975,000 from the US Army's Armament Research, Development and Engineering Center (ARDEC) for the design, prototyping and demonstration of Metal Storm less-than-lethal munitions.
The company had advised the market on 21 November 2005 that this contract was expected.
Under the Phase II Small Business Innovation Research (SBIR) contract, Metal Storm will design and build prototype less-than-lethal munitions for demonstration to ARDEC of a range of crowd-control options. These munitions will be compatible with the Metal Storm 40mm launcher technology. Incorporated into the munitions will be "smart-round" capabilities, providing an improved level of safety and flexibility in the less-than-lethal spectrum of operations. The project effort, entitled "Metal Storm Crowd Control System", will extend over a 2 year period.
"The confirmation of this Phase II SBIR contract is very timely as much of our current engineering efforts are directly focused on the final development of our High Explosive (HE) munitions. Being able to expand our current efforts into specific less-lethal capabilities will fit nicely with our 2006 strategic plans." said Metal Storm's Chief Executive Officer, David Smith.
"We are extremely pleased to receive this award from the US Army in support of their efforts to provide broad war fighting versatility. Metal Storm systems have potential to add significant capability to operations requiring crowd control for the urban warfare environment while also having numerous applications and market opportunities in civil law enforcement scenarios."
"As advised to the market in September 2005, Metal Storm is also currently working under a Cooperative Research and Development Agreement with ARDEC in relation to the development of HE munitions. This critical business relationship will become even more advantageous as we add the less-lethal line of munitions to the already established framework for the rapid development, testing, and eventual certification of a range of 40mm munitions for use in Metal Storm weapons systems. We will continue to keep the market informed of our progress in this area", said Mr. Smith.
As announced on 2 December 2005, Metal Storm was also recently awarded a Phase II SBIR contract with the US Department of Defense worth approximately Au$1.32 million for the development and testing of a remotely operated weapon system.
See the footnotes below for further information regarding ARDEC, the SBIR program, and less-than-lethal systems.
Metal Storm
20.01.2006

Share...




Metal Storm Completes Mission Payload Module Contract
11.05.2011
Futuristic artillery gun is cited as the world`s fastest firearm
23.11.2010
Metal Storm signs PNG contract
07.09.2010
Metal Storm Awarded Volume Weapons Production Contract
03.08.2010
Discuss